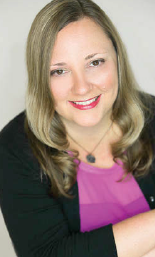 For Candice Mahala, manager and co-owner of Bistro Toulouse, the road to culinary greatness was an obvious choice. At an age when most girls have Barbie on the brain, Candice was focused on baguettes and blue cheese.
"I have loved cooking since I was a little kid," said Candice. "I remember preparing a five-course dinner for my parents' anniversary when I was about 8 or 9 years old."
Her passion for cuisine led her to The Culinary Institute of America in Hyde Park, New York, where her gift for innovative flavor pairings and presentation was sharpened. After graduation, Candice worked as a pastry chef, sous chef and front-of-house manager in various fine dining establishments from upstate New York to Miami and Washington D.C.
While Bistro Toulouse has been open only a year, it has rounded up an extensive number of loyal patrons who just can't get enough of their onion soup gratinee and bouillabaisse.
"Great feedback from customers is extremely rewarding," said Candice, who also credits her fiancé, co-owner and head chef Matthew Schulz, with the restaurant's success. "We love to hear from our guests that the food makes them reminisce about a trip to France or that their server brightened their day."
Prior to serving French food and wine to the folks of Mount Pleasant, Candice was a catering manager for Hyatt, Omni and Marriott – organizing galas attended by presidents, first ladies, senators and other elite power players. She brings the same level of professionalism and enthusiasm to Bistro Toulouse.
"When someone enjoys the experience of dining with us and wants to return, it makes the whole team feel as if we have accomplished something special," said Candice.
By Kalene McCort