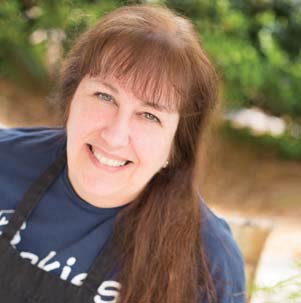 Whether you're looking for a little bit of whimsy and fun or a decadent cake dripping in gorgeous handmade fondant flowers, Bakies, owned by Gail Holdcraft, has what you seek.
While Holdcraft has been baking and designing cakes for well over 20 years, it was the opportunity of a fantastic location that helped Bakies open its doors just over six years ago. Still going strong, Bakies offers a variety of sweet treats, from cookies to truffles and cupcakes to fudge and, of course, showstopping wedding cakes.
A longtime Charleston resident, Holdcraft finds that the best part of her business is meeting new customers and "making all of their crazy ideas come to life," a job that, according to her, wouldn't be possible without her staff.
"Pam, Hannah, Michele, Hans, Bobbi Jo, Anamaria, Catie, Laurie and my sister Linda hands down make up the best team around," she said.
Together, they work daily to design and create out-of-the-box desserts for all occasions.
"It's exciting to be able to get creative for a living, making beautiful and delicious products that make people happy," Holdcraft pointed out.
When Holdcraft isn't baking up the next tasty treat, she enjoys spending time with her husband, Glenn, and four-legged friend, Lucy, who she calls "the best little dog ever!"
By Krysta Chapman