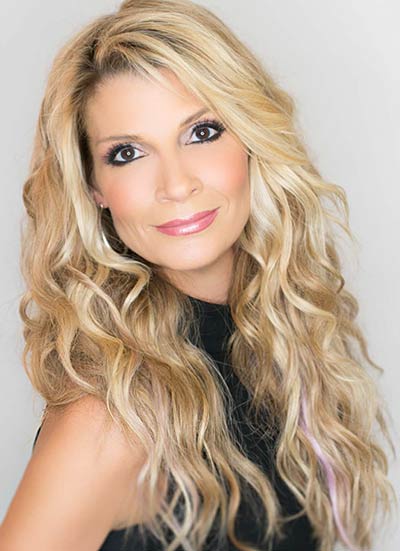 Kim Coleman, owner of Vanity Salon, is one of the top wedding stylists in Charleston. Her work has been published in People, More and Charleston Weddings, as well as catalogs for Lands' End, Ralph Lauren and Badgley Mischka.
Coleman's salons provide hair and make up for over 200 weddings per year.
This busy, hardworking businesswoman juggles the demands of being a mother, wife, stylist and owner of two salons, one in Mount Pleasant and the other in West Ashley. In addition, she has worked movie sets and runways and travels extensively teaching other stylists about new techniques and products. She also frequently attends industry events, like a recent trip to Atlantic City Fashion Week, to share her knowledge and stay abreast of the latest trends.
Coleman attributes her success to her amazing staff and her love for the beauty industry. Vanity Salon has a large staff, with 20 current employees and growing. This commitment to compassion for her employees' needs has been Coleman's recipe for success.
"We are all equals in the salon, and we have a warm and welcoming environment," Coleman stated. "We are the place people come to look good and feel good. Vanity Salon is a full-service salon with the goal of being the very best part of your day."
Vanity Salon offers a large array of products and services including cuts, color, makeup, hair extensions, eyelash extensions, spa skin-care services, spray tanning and a blowout bar.
The salon recently launched a unique new styling salon concept called The Style Bus. They converted an 18-person bus into permanent styling stations. The Style Bus is available as an additional service for bridal parties and can serve as a bridal suite if the wedding venue does not have adequate space for the bride to dress and prep for her walk down the aisle. The Style Bus is also available for bachelorette parties, birthday parties, anniversary parties and little princess parties.
"The Style Bus allows us to offer a really fun and different experience to our clients," Coleman said.
A Charleston native, Coleman believes in giving back and being involved with the community, particularly to the Charleston Animal Society. Among other things, the salon has sponsored the Charleston Firefighter Calendar by providing the stylists for the hair, body makeup and even oiling down of the firemen. Kim laughed as she shared, "It's a tough job, but someone has to do it."
With her ability to multitask as a leader, stylist, traveling educator, mother, wife and friend to her employees, there is no limit to Vanity Salon's potential.
By Tonya McGue