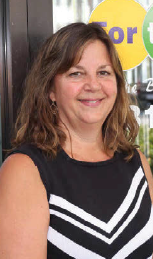 After many years as a grocery store manager and retail consultant, Lisa Carrels pursued her desire to own her own business. Armed with her Marketing and Management degree, along with her extensive business background and years of retail experience, the native of Indianapolis, who has lived in Mount Pleasant for 13 years, visited For the House: The Barstool Shop. She discovered it was for sale, and promptly purchased it more than seven years ago.
Offering customers a vast and unique collection of counter stools, barstools, vanity stools and tables, Lisa increased the shop's selection and expanded to include dining sets, pub tables and miscellaneous furniture pieces. Additionally, allowing customers to take items home, including fabrics and finishes, gives the shop a competitive edge.
Aware that her strongest competition is from mass merchandisers and the Internet, this savvy businesswoman advised, "Know your product, and go above and beyond. You must have tenacity, high-quality inventory and a good support group. Also be aware of your competition, and show your willingness and extreme flexibility to work with the needs of your customers. We offer special store hours, in-home visits, assembly guarantees and reduced or free delivery."
One of the most appealing offers Lisa avails to her customers is loaning furniture to be used until special orders arrive.
Lisa stressed that it is a great advantage for customers to be able to visit the shop and actually view the designs – including more than 150 styles – and to touch and feel the fabrics.
Face-to-face communication also helps keep the focus on a successful result.
By Eileen Casey