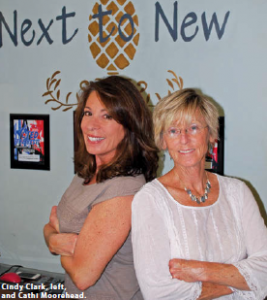 Cathi Moorehead had never been an entrepreneur before she and her business partner, Cindy Clark, bought the Mount Pleasant furniture store Next to New five years ago. In that short amount of time, they've taken on three employees and expanded twice, growing from approximately 1,200 square feet to 5,000 square feet.
They need all that space to show the hundreds of pieces of furniture, home furnishings and décor items for sale. But Next to New, located at The Shoppes at Brickyard on Highway 17, is not your typical furniture store. The showroom is filled with one-of-a-kind pieces, brought in by consignors from all over the globe, and it's always changing.
"We get a lot of really unique items," said Cathi. "Anything from antiques and collectibles to memorabilia to decorative items brought here from Europe and South Africa. Things from absolutely everywhere."
One challenge of running a large consignment store is the need to stay organized – no small feat when you work with nearly 4,000 consignors. Before Cathi and Cindy took over the business, everything was done by hand, including keeping track of inventory and writing price tags. Now they rely on computers to do the heavy lifting, utilizing a special consignment software and maintaining a website where consignors can track their items.
"Being computerized has definitely allowed us to have more consignors and continue to grow," said Cathi.
When they met, Cathi was working for the previous owner, doing everything from bookkeeping to making the showroom look nice, and Cindy was bringing in her painted furniture pieces to sell. They jumped at the chance to take over the business in 2010, though it was a large change for both of them. Cathi had worked in research in a medical center for more than 20 years, and Cindy had previously worked in global sales for AT&T.
They both stress the importance of working with a partner you trust completely and work well with.
"Cindy and I believe that capitalizing on our individual strengths makes us a stronger team," said Cathi. "Each of us has some aspect of the business we enjoy and handle well. We balance each other, like yin and yang."
Having a great support team is important, too.
"That's huge," said Cindy. "You know you can leave and the store's being taken care of as if you were there."
Cathi's advice to women in business is to work hard and know that owning a business is demanding on your time, especially if you are in retail.
"You may have to work days when you don't feel like it. You need to do whatever needs to be done to do it right," she commented.
But that's not to say that Cathi and Cindy don't have fun. They love seeing new pieces come in and having the opportunity to be creative. Cindy likes the ever-evolving nature of the work.
"It changes daily. It's a lot of fun to be able to go into your job every day and enjoy it," she pointed out.
They also love the people and know many of their loyal customers and consignors on a first-name basis, Cathi said.
"They'll ask how my tennis game is going, and I'll ask, you know, how was your knee replacement. We get to know our customers really well, which is really a nice 'warm and fuzzy' you might not expect that comes with the business."
By Erin Danly