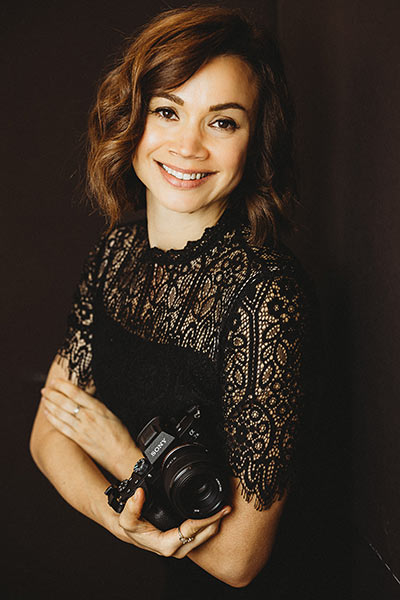 When did you decide to go into the business?
I decided to start my business in 2019 after encouragement from friends and family. I had been obsessively engaged in photography since 2011 but never realized it could be a way to make a living. Instead, I was pursuing a career that, while meaningful, left me feeling drained and frustrated. A colleague kept encouraging me. I am so grateful for her. I never imagined any of this was possible. I am living a dream I didn't know I had.
How did your business start?
It started with an internal desire to photograph the beauty of Charleston. It evolved into photographing my dog, then my kids and then friends and family. Eventually, there were lots of referrals coming in. I loved it so much, I began a side business. My love for photographing people took over, and I became especially interested in capturing other female professionals. I love connecting with them, making them feel beautiful and seeing the success of their businesses.
How do you find your passion?
I believe your passion finds you. Photography found me. I just couldn't stop doing it. I never expected to be passionate about headshots. They initially seemed boring, but I have fallen in love with them. I love serving women, showing them how beautiful and amazing they are. I feel grateful to be a part of helping them to communicate their strength and professionalism to the world. They have worked so hard. That deserves to be communicated in their professional pictures.
Have you encountered challenges as a woman and business owner?
Yes, 100%. I think the main challenge has been self-value. I had to work on increasing how I value my time, my energy and my craft in order to charge sustainable prices. As a woman, I can easily make decisions based on feeling rather than facts. As a business owner, you can't do that. It's important to look at your numbers, value your worth and provide an exceptional experience and product in exchange.
What inspires you?
My children inspire me. I love documenting their little moments and big personalities. The Charleston landscape is also a huge source of inspiration. I don't know of any place more beautiful. I have numerous mentors who help me tremendously and inspire me to grow and enhance my services. Finally, my clients inspire me just being themselves.
Tell us about how you grew up and who shaped you into the woman you are.
My father taught me that you can do anything you put your mind to and overcome any obstacle. He never let anything stop him from achieving great success. He was blind from an early age, yet managed to get his PhD in clinical psychology, teach as a professor at the local university, ride horses and water ski. I have his determination and laser focus. My mother instilled in me spirituality, empathy and unconditional love. She gave me a strong sense of morals and a deep desire to be a good person.