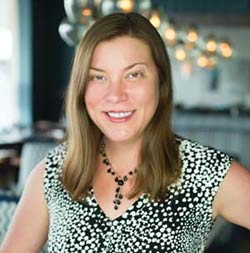 Since opening in February 2016, Congress has attracted diners looking to be fully submerged in layers of flavor. From perfectly pressed paninis to refreshing ceviche verde, they take guests' palates on an international journey with inventive dishes. The woman at the center of it all is front-of-house manager and co-owner Adrienne Ciaburri – who keeps things running smoothly outside of the kitchen, where her chef husband takes meals from creative concept to artful plate.
"I've worked in restaurants for over 20 years and can't remember what first inspired me, but I know why I've stayed in the business," said Ciaburri. "Nothing brings people together like good food and good drinks, so when they come to us, we really enjoy the chance to make their time together a great memory."
With a cocktail menu that doesn't disappoint, guests can sip on stunners dressed with fresh mint and lime slices. Start with the house-made mozzarella and end with sugar and cinnamon dusted churros, complete with hot caramel sauce for dipping.
"It's wonderful to be able to introduce people to new foods and flavors that they haven't experienced," said Ciaburri. "It's rewarding to see the expression on someone's face when they try something they've never heard of and love it!"
At Congress, you're bound to find your next favorite dish.
"When opening any new business, there is no match for passion and experience, and we certainly have both," said Ciaburri. "Our staff is amazing, and we couldn't do this without them. We are a family with a common goal of success."
By Kalene McCort