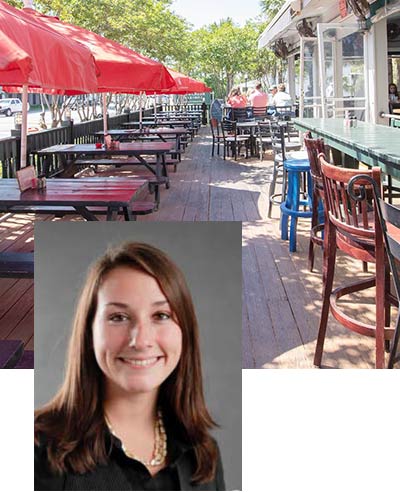 The Shelter Kitchen and Bar co-owner Ashley Berry has come a long way since working her first food-and-beverage industry job as the bread girl at Station 22 when she was 14.
She loved it and never looked back. From there, Berry held various positions at bars and restaurants for the next 15 years.
Berry, who was born and raised in Mount Pleasant, graduated from Bishop England High School and earned her bachelor's in psychology from the College of Charleston and a dual MBA from Purdue University and Leibniz University in Germany.
When she returned stateside from Germany, her business partner and brother, Thomas, asked for her advice in opening a dive bar in Mount Pleasant.
"I honestly thought it was a joke at first," recalled Berry. "Little did I know, seven years later …"
The restaurant idea would eventually evolve into The Shelter. Since opening Labor Day weekend 2012, The Shelter has been a Shem Creek staple, offering a happy hour with killer food and drink specials including half-off their delicious local shrimp, live music four-plus nights a week and Thursday trivia, among other events.
Berry aptly described The Shelter as a "laid back, open-air kitchen and bar where all are welcome," (including your well-behaved canine friends) to "bask in a beautiful day on the wraparound porch with a cold brew or custom cocktail and a made-from-scratch menu of elevated pub fare with a Southern twist."
And in the brunch-obsessed Lowcountry, there is a group of people who often get excluded from this Sunday ritual: the service-industry employees themselves. Shelter has worked to rectify the situation by offering a Monday-brunch option geared toward food-and-beverage people.
"As someone who always worked in food and bev, I often worked weekends and missed out on brunch on Sundays with friends and family," explained Berry.
They started by offering brunch on Saturdays, then gradually expanded it to Monday when they realized how large of a local food-and-beverage industry following they had.
Berry cites Salty Mike's and the Marina Variety Store owner Richard Ritter, as well as long-time local restaurateur Shawn Lashbrook — her manager at Salty Mike's Deck Bar — as professional mentors.
"Both taught me many things, not the least of which is compassion, patience and to remember to smile, smile, smile," reflected Berry.
Berry attributes the success of The Shelter to location and timing to a certain extent in the beginning. But as for their longevity in a fiercely competitive Charleston market?
"Hard work, presence and a willingness to adapt," stated Berry.
By Colin McCandless