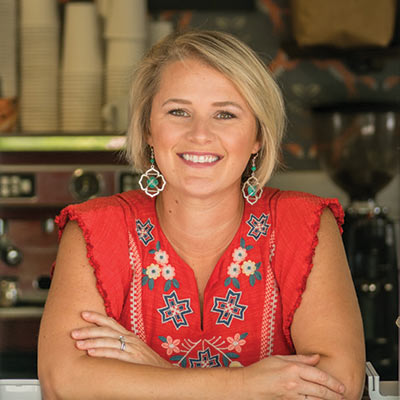 When you meet Biz Foxworth, it's easy to be charmed by her pleasant demeanor. In fact, it's a common thread among her staff — and most of them started out as customers.
On any given morning, you can find a line formed outside of Brown Fox Coffee. The shop serves organic, single-origin beans, as well as some crowd-pleaser flavored drinks.
Customer service is paramount to Foxworth, a native Charlestonian.
"It's a big deal for someone to choose to stop, park and get a cup of coffee instead of make it at home, so we respect their time," she commented.
Foxworth graduated from the College of Charleston with a degree in hospitality & tourism. As she dabbled with the idea of a nursing career, she found herself working in a coffee shop and loving it.
"I have always harbored that entrepreneurial, daydreamer spirit, so I started thinking about opening my own place," she said.
She credits her mom for propelling her into action. Phase one was a mobile coffee truck. The brick-and-mortar storefront on Simmons came a couple of years later. Next up is a satellite location at St Andrew's Church when it reopens this fall.
"It's an awesome little cafe space — easy to access and open to the public," she shared
By Pamela Jouan