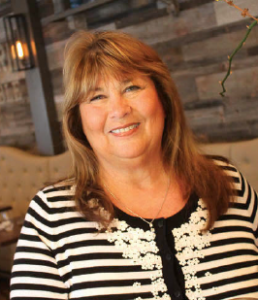 You have undoubtedly heard of her restaurants. Wild Wing Cafe. Red's Ice House. And the latest rave, Tavern & Table. But most folks have never met one of the masterminds behind the wildly successful and fun restaurants.
Dianne Crowley, an energetic and passionate business-woman, grew up near the water in Melbourne, Florida. She pursued a broadcasting and advertising degree at the University of Florida; developed a love for swimming, shopping, spas and sports; and started a career in the broadcasting industry as the creative director of a television station and host of a television show called "Making Ends Meet," which is where she'd ultimately develop an interest in food.
Dianne's broadcasting career would eventually take her north to Atlanta, where she'd meet her husband of 32 years, Cecil. From there, the two started a new journey in South Carolina that continues today.
Twenty-five years ago this June, Dianne and her husband opened their first Wild Wing Café in Hilton Head with "absolutely no restaurant experience between the two of them." Dianne, fondly reflecting on their beginnings in the restaurant industry, quipped, "On that first night at Wild Wing, we ran out of all of our food and had to make an emergency trip to Sam's Club to replenish for the next day."
Thankfully, the challenges of that opening night all those years ago was not an omen. From 1990 to 2012, the couple opened a staggering 35 Wild Wing Cafe restaurants across the Southeast, including the downtown, North Charleston and Mount Pleasant locations. Dianne credited her success to getting a good education, doing something she's passionate about, treating her employees with a great deal of respect and never underestimating customers. In Dianne's words, "Every time a customer comes in the door, it is a compliment."
In 2012, Dianne and Cecil sold their Wild Wing Café restaurants to a private equity firm and began to flex their creative restaurant muscles. Today, that manifests itself in two thriving restaurants on Shem Creek: Red's Ice House – which they have owned since 2004 – and Tavern & Table. They also opened the Red's Ice House in Bohicket Marina on Johns Island. Dianne attributed her continued success to staying true to her employees.
"Many of the folks that started with us at Wild Wing Cafe in 1990 are still with us today, managing operations at Red's and T&T! We are like a family," she said.
By delegating to her family of employees, Dianne and Cecil can focus on staying current with restaurant trends, finding new talent and focusing on the community. Through support of the Hollings Cancer Center and Charleston's BackPack Buddies program, Dianne finds fulfillment in strengthening the Lowcountry's social fabric by ensuring those who need help get help.
"Restaurants are integral parts of American communities. More and more Americans are viewing restaurants and chefs like Europeans do. Restaurants can be community centers, where people come together. The day that restaurants become corporate entities is the day I want out!"
As spring turns to summer, you might find Dianne happily engaging with customers, eating her favorite dish: pimento cheese and bacon jam. When asked about the grind of the restaurant industry, Dianne laughed and said, "My father always told me that if you love your work, it'll never be a job. Food is fun to me. So we'll continue to bring food to the Charleston community in creative, delicious ways!"
By Joe Semsar