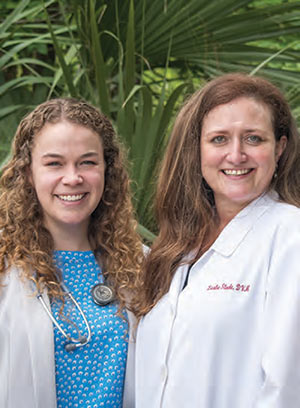 Advanced Animal Care of
Mount Pleasant
3373 S. Morgans Point Rd. #301 Mount Pleasant
843-884-9838
www.advancedanimalcaremp.comAlmost 20 years ago, Drs. Leslie and David Steele founded Advanced Animal Care of Mount Pleasant. This neighborhood hospital has earned praise and recognition for quality care and a fear-free approach.
"We don't restrain pets forcibly or reinforce their fear-based behaviors," said Dr. Leslie Steele. "We help clients gradually condition behaviors with positive interactions, rather than fear, which is really the basis of the fear-free approach. All of our staff, including the doctors, are certified in fear-free handling of dogs and cats, and we all stay involved in continuing education in the field."
New to the practice is Dr. Megan Hardy. After earning degrees from the University of Kentucky and the College of Veterinary Medicine at Auburn, she completed a preceptorship at AACMP. Drs. Leslie and David were so impressed with her skills, she was offered a permanent position. Now, Dr. Hardy provides general medicine and preventive health, focusing on small animal dentistry.
"I feel so lucky to have found the Advanced Animal Care family. Being part of a practice that prioritizes teamwork, strong mentorship, and good, quality medicine for patients was really important to me. The human-animal bond is what drives my passion for veterinary medicine, and being able to support that bond every day is a dream come true," said Dr. Hardy.
Close to their collective heart is the cause of animal rescue. After helping vulnerable animals locally since 1994, AACMP established the nonprofit East Cooper Pet Relief Rescue in 2015.
"Our activities include 'TNR' of local stray cat populations, adoption and rescue. ECPR performed around 60 spay/neuters and adopted out 44 cats and kittens last year. We also took in three injured, abused and neglected dogs through Animal Control, provided medical care and emotional support and then found them incredible homes, where they are family," said Dr. Steele. "People need their pets now more than ever before, and we are proud to be able to help."
When asked about strong female leadership at Advanced Animal Care, Dr. Hardy said: "Dr. Leslie has been an incredible mentor for me throughout this past year. Seeing her successes, — not only as a veterinarian and businesswoman but also as a mother and community member — has really inspired me and my career. I think it's so important to continue learning from each other and to have someone to turn to for guidance. Dr. Leslie has been that person for me."
By Jeanne Taylor
Read More: Dr. Leslie Steele: Advanced Animal Care: Passion for Helping Animals