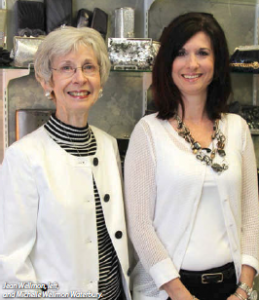 Those who have ventured to Jean's Bridal in Mount Pleasant, an institution of bridal couture and formal wear, aren't likely to be surprised that owner Jean Wellmon has had years of experience in the retail business profession – years that taught her the patience and dedication to her clientele that Jean's is known for.
Jean began her journey in retail at the age of 17 when she took a position at a shop called Eleanore's. The experience was quite a positive one, and Jean looks back on those early years fondly.
"I worked for an inspiring woman who really knew how to manage the store positively and effectively," she remembered. "Today, I strive for my own business to be run in the same manner."
The early days of Jean's shop were spent at a different location: namely, Peachtree Plaza on Coleman Boulevard. When it initially opened, it was a fabric shop that offered custom alterations. A short time after, Jean began carrying several ready-to-wear pieces – and with that, Jean's continued to evolve. In 1980, the shop moved from Peachtree Plaza to Fairmount on Johnnie Dodds Boulevard, and, according to Jean, the direction of the business swiftly changed.
"I began focusing more on ready-to-wear pieces as well as bridal gowns and formal wear," she explained.
Fast forward a few more years to 1984, and Jean was ready to expand the business again, this time to its current location at Lafayette Village, also off of Johnnie Dodds. At this point, Jean noted that Mount Pleasant was lacking a true bridal shop – a niche that she was poised to fill.
"I like to try new things," Jean pointed out. "At the time, the town didn't have much to offer in the bridal industry."
The layout of the new location included two stories of shopping space, with ready-to-wear items downstairs and formal wear, bridal gowns and tuxedos upstairs. According to Jean, the shop had transformed to "a true bridal store" by 1993, chasing out the ready-to-wear fashions in favor of carrying tuxedos downstairs and bridal gowns plus women's formal wear upstairs.
Today, Jean's Bridal has garnished the reputation in Mount Pleasant and beyond of being one of the finest bridal shops in the region, not just in clothing but in customer service. The shop continues to offer custom alterations and accessories such as shoes, hairpieces, jewelry and other items for a bride's big day.
"Over the years, we have tried our hand at other bridal-related items such as fine china and invitations as well," Jean remarked. "Currently, we do have a small gift section downstairs."
The shop is operated by Jean and her oldest daughter, Michelle Wellmon Waterbury, who, according to Jean, has been invaluable to the business since 1991.
"My family has been a huge support for me," she said.
"Michelle has been my right hand through the years. We both hope that Jean's Bridal will be a Mount Pleasant staple for years to come."