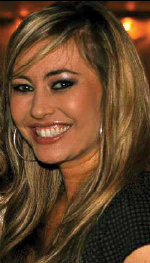 For Jordan Eads, makeup artist and franchise owner of Merle Norman Cosmetics, a business built on beauty and color was a clear choice. Fueled by a love of bringing out the best in others, she makes daily transformations in her studio on Coleman Boulevard.
"I really enjoy the work I do – helping women look and feel beautiful. It's rewarding getting someone in a skin-care regimen that improves their complexion or doing makeup artistry for a bride on her special day," said Jordan. "Furthermore, because of Merle Norman's intimate studio setting, I'm able to build relationships with many of my clients."
From hydrating facials to fun and innovative makeup tutorials, Jordan is keeping the ladies of Mount Pleasant and beyond looking and feeling gorgeous. Her skill set and ability reaches far beyond knowing when to contour with bronzer or add a rose-stained lip.
"Makeup artistry takes a lot of practice. No one has the same complexion, tone or preference. You have to learn to understand your clients' expectations. By doing lots of makeovers, you'll learn what shades and finishes work best for the many different people you will work with over your career," she said.
A true go-getter, Jordan opened the store when she was just 26 and continued to work a second job in the evening to help offset start-up costs and financing.
"I'm always trying to make the studio better. In 2013, after relocating, I added spa services to complement our cosmetics retail," said Jordan, who recently received an award from Merle Norman for a signicant increase in sales. "It's rewarding to see my dedication to the studio paying off."
Jordan Eads
Merle Norman Cosmetic Studio
280 W. Coleman Blvd., Suite 1 Mount Pleasant, S.C. 29464
843-388-5819
www.merlenormanstudio.com/mn-9703
By Kalene McCort