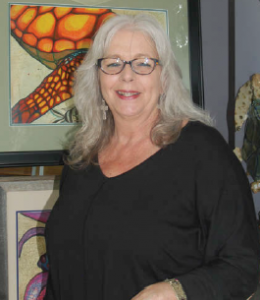 When Karen Boals took a job at a Mount Pleasant frame shop 30 years ago, she had no idea it would become a lifelong passion.
"I needed a job and that was that," she remembered. "I turned out loving it. When I worked for Tom Tanis, there was a little sign called 'Karen's Korner,' and that was where I sat and assembled my work. When I opened my own store, he came and said, 'I knew when you walked in the door that you would do this.'"
Her store at 1405 Ben Sawyer Blvd. is a bit bigger than a corner now, but it still has the same name: Karen's Korner Frame and Art Gallery.
"It's absolutely everything I thought it would be," she said of entrepreneurship. "Sometimes it can be stressful, but I love my clients, I love my customers and I love being able to share art with everyone. We sell things from $8 to thousands of dollars, so everyone can afford to own an original piece of art."
Karen said letting her store evolve is one of the best things she's learned over the years.
"You will always have to be able to diversify. If one thing is not working, change it up. Stay new, stay fresh, stay current, but always stay true to your passion," she said.
Her passion is art, which she has grown her business to accommodate more of in the past 15 years. What started as a custom frame shop has grown to include a gallery space where she now exhibits and sells the work of 16 local artists, including photography, paintings, jewelry and pottery. Watercolor painting classes are also held in the store.
"I love being my own boss," Karen said. "This is my hobby; this is my everything. This is my space; it's what I've created to share with the world. There's a lot of personal satisfaction. Are there sleepless nights, too? Absolutely, but I always feel like I've done something right if I've been here for 15 years."
While Karen does consider herself a successful business-woman, she was quick to clarify the term.
"Success is measured in different ways. My 'success' is a lady who comes in one day and says, 'I come in here all the time and I never buy anything, but when I have a bad day I come here and it instantly makes me feel better.' What kind of great compliment is that? You can't buy that kind of success," she said.
"It's more than just a business to me. It's making people feel comfortable, it's earning their trust and it's making relationships. It's more about reputation than the dollar, although the dollar makes it work. I'm blessed to have such a loyal customer base," she added.
That customer base, along with the artists and Karen's own skills, have helped make Karen's Korner a top gallery in Mount Pleasant. For three years in a row, Mount Pleasant Magazine readers have voted the business "best art gallery" in the magazine's Best of Mount Pleasant competition.
Karen said she would encourage other entrepreneurs to do as she did and keep working toward their dream, despite challenges.
"I just don't think that you should ever give up on your dreams," she said. "I think that you can do whatever you set out to do. I don't think just because your circumstances change that you still can't steadily work toward that goal."
By Taylor Griffith