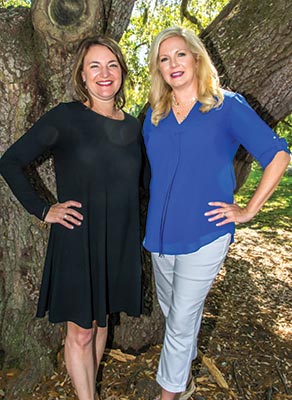 Director of Admissions Lisa Shimakonis and Director of Marketing and Communications Darla Rourk have found their calling at Palmetto Christian Academy. Their roles permit them to practice their strong Christian faith while contributing to their community.
They both bring leadership, integrity and passion to PCA, and their influence helps make Palmetto Christian Academy one of the top-rated parochial schools in the Charleston area.
Both are graduates of the University of South Carolina. Shimakonis earned her bachelor's in Retail Management, while Rourk graduated cum laude with a bachelor's in Broadcast Journalism. Before finding her place at PCA, Shimakonis prospered in sales management as a buyer for JC Penney. Rourk worked as a journalist, including stints in Phoenix, Birmingham and Augusta, which brought her to WCBD in Charleston. Both women found PCA when they were exploring educational options for their own children. They recognized the school as a place where they too could grow – professionally and spiritually.
Rourk and Shimakonis share a love of being around people – they agreed that they enjoy their roles because they interact daily with an amazing staff, incredibly dedicated teachers, caring and involved parents and an annual flow of sweet, scholarly children.
Admissions allows Shimakonis to serve others while giving her a "huge opportunity" to meet many new people and guide them through the enrollment process. Meanwhile, Rourk's responsibilities in marketing and communications allow her to continue her journalistic pursuits – she has a "passion for telling other people's stories," she said.
Both are drawn to the mission of PCA, with its emphasis on providing a Christ-centered education and helping students fulfill their calling.
Shimakonis reflected on seeing small children grow into high school students, then on to college, careers and families.
"They're priceless memories," she said.
"Parents and students enjoy a close-knit network of like-minded families who are sharing the joys and the heartaches together," Rourk added. "There is a genuine partnership between the school and the parents."
As Palmetto Christian Academy marks its 25th year, Shimakonis pointed out that the school "continues to grow in the community to serve Christian families."
Shimakonis and Rourk touch the lives of every student who enters and every PCA family that becomes part of their extended-family. They invite your family to schedule a visit – you're sure to be delighted with the nurturing, faith-filled environment at Palmetto Christian Academy.
By Ginger Sottile