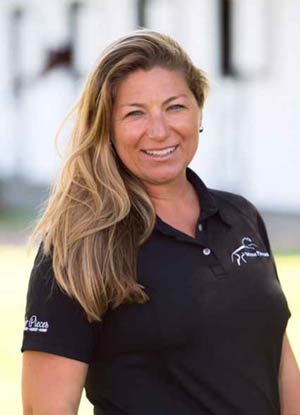 Natasha "Tash" McCarthy has been riding horses since she was 7 years old. Growing up in the hustle and bustle of Washington, D.C., McCarthy's mother, a busy hotel executive and single parent, knew that she needed to get her daughters involved in a quality extracurricular activity. Equestrian fit the bill.
According to McCarthy, "It provided a safe environment that gave us a work ethic, responsibility and respect."
McCarthy and her sister worked diligently on their riding skills, mucking out stables and handling dayto- day tasks around the stables. The hard work and effort paid off in the form of numerous awards and accolades in competition. Additionally, McCarthy was awarded a scholarship to attend Hollins University, a private women's school in Virginia, to compete at the collegiate level.
Regarding horseback riding, McCarthy stated: "It gave me the gift of education."
Upon graduation in 2000 with a degree in Communications, McCarthy entered the exciting but gruelling world of the equestrian business.
Long work days, long trips, endless logistics, detailed management and expert negotiations with high-end clients took a hard toll on one of the industry's star performers. In 2004, McCarthy threw a dart at a map, left the industry that had given her so much and moved to Charleston, South Carolina. She left the industry for five years until she was brought back into the fold volunteering and working at Tuxbury Farm, a local equestrian center. McCarthy dove back in as an assistant trainer, rapidly moving up to trainer and operations manager. Her previous competitive and professional experience helped bring a higher level of the sport to the community. Her time was well spent, as she continued her professional journey, learning how to effectively communicate with clients regarding the purchase of horses and the day-to-day operations of lessons, training and boarding.
At another crossroads in life, McCarthy, and her husband, Mike, decided to pursue the dream of owning their own business. Putting pen to paper, she used her education and experience to craft a business plan for White Horses, LLC, a 24-stall boarding facility that would offer expert care, riding and training.
According to McCarthy, "It would be a bed and breakfast for horses," so they persisted in their search, conveying the message that this would be more than "trail riding." Finally, they secured a loan with the Small Business Administration that turned dreams into reality: White Horses, LLC, a local business with a world-class culture and mission.
By Michael M. Cochran