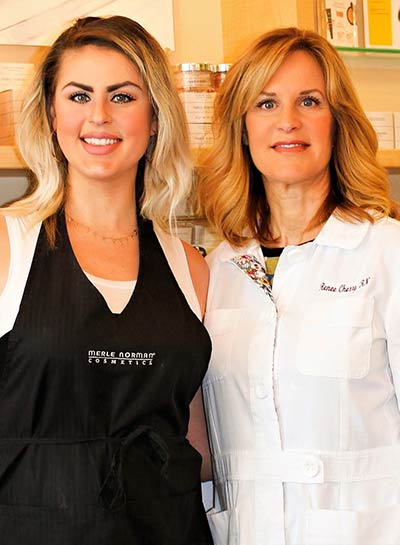 René Cherry
Faith Lanford
Merle Norman Cosmetic Studio & Med Spa
280 W. Coleman Blvd.
Mount Pleasant
843-388-5819
www.merlenorman.com
Merle Norman Cosmetic Studio & Spa is more than just makeup; it's a beauty destination. Whether you are looking for skin-care products, in need of a spray tan or are dreaming of an advanced skin-care procedure to reinvigorate that youthful look, Merle Norman has high-quality options right for you.
Under the new ownership of Dr. Edward Bednar and his wife Sylvia Pflum, Merle Norman's Mount Pleasant location has evolved to allow him to practice minimally invasive procedures. Dr. Bednar has over 40 years of experience as a board-certified plastic surgeon, and his practice in Charlotte, North Carolina, is world-renowned.
In addition to his medical work, Dr. Bednar is an artist specializing in sculpture and painting; his eye for beauty and balance lends itself to the cosmetic arena of sculpting faces and bodies, and his reputation in the industry reflects that.
Reneé Cherry and her daughter Faith Lanford co-manage the Merle Norman location. "I have been a registered nurse with Dr. Bednar for over 20 years now. Faith has a background in makeup and was a model in Los Angeles and New York City," Cherry explained.
Cherry manages the medical spa and performs HydraFacials and laser procedures. She also pierces ears with quality 24-karat earrings — as a registered nurse, customers trust her experience. Lanford manages the makeup and skin-care studio. In addition to spray tans, Lanford is a makeup expert and helps customers with anything from daily makeup routines to special events like bridal makeup. Merle Norman's nail salon is run in a private setting by Jackie Jennings.
Some of the procedures Dr. Bednar performs in this location include Botox and fillers and minimally invasive procedures like facial rejuvenation and Silhouette® lifts. These involve minimal-to-no downtime but produce significant results.
As for Merle Norman makeup and skin-care products, "This is not your grandmother's makeup," Cherry laughed. "People recognize the name because the company has been around for almost a century, but Merle Norman has done a beautiful job of expanding to offer amazing products and advantageous lines to all types of skin."
One line of natural makeup is plant-based and free of dyes and parabens. There are other products which combat discoloration and dullness, premature aging, sensitivity, redness and acne.
"There's something for everyone," Cherry added. "We're here to help you look and feel your best."
By Anne Shuler Toole