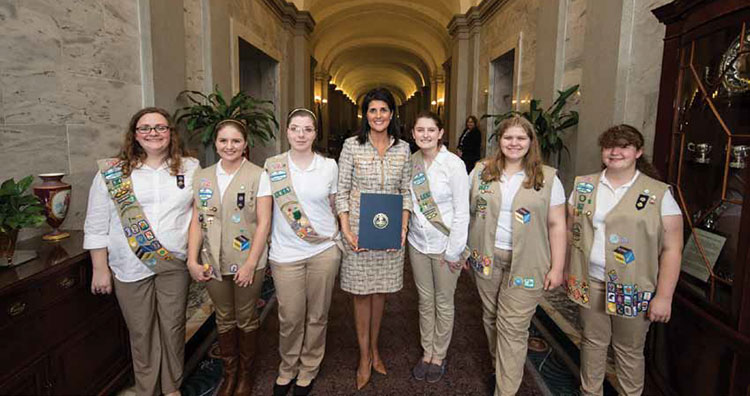 Who doesn't love a success story? Many of us turn to magazines, television, film and even family or friends for those inspiring tales of triumph – especially as women and especially when we need a boost when the going gets tough. South Carolina's first female governor, Nikki Haley, is a fine example of one such success story – not just for women but also in the field of public service. Haley, who has been in office since 2011, is consistently in the spotlight thanks to her candor. Whether you tend to vote Republican or Democrat, it's hard not to give her credit for being a strong woman.
Mount Pleasant Magazine caught up with Haley for a few questions during her visit to East Cooper for the Volvo Car Open in April. She was happy to share her opinion that "women bring a lot to the table" in both business and politics.
Mount Pleasant Magazine: Describe what or who first piqued your ambition as a child or young girl.
Gov. Haley: I started doing the books at age 13 for our family business – then I realized in college that wasn't necessarily ordinary. [laughs.] At 13, I learned the value of a dollar. My family knew not to celebrate on occasions we had money because sacrifice would come again. My parents also told me that whatever you do, be great at it and to make sure people remember you. Because of them, I understood the concepts of service and hard work. There wasn't one day that they didn't tell me we were lucky to be in this country and to have opportunity.
MPM: Did you face discouragement during your younger years? How did you overcome it?
GH: We were Indian, and we were looked upon as being different. Growing up was hard. I didn't fit in anywhere racially. But our parents stressed the idea of unity and to find similarities with others, not differences. I still believe in that concept, to unite and not divide.
MPM: What is your background? What gigs during the early years helped you?
GH: I had great jobs. I did my parents' accounting, then I was assistant to a chiropractor while I attended Clemson. Then I did an internship with Liberty Insurance's Audit Department. I learned to understand numbers through that experience – and I learned to understand people through working with the chiropractor. Today, as governor, I deal both with people as well as benchmarks and goals.
MPM: What was your first experience with public service, and what impression did it leave?
GH: I was not interested in politics in high school or in college. But I did notice, through the family business, how many of our dollars the government was taking. And I became interested. Once I ran for office, the only option was to win. I remember knocking on doors with the kids in the back seat, getting to know the district.
MPM: What advice do you have to offer our readers who are considering public service or simply pursuing a personal dream?
GH: Two things: We need women as leaders and as public servants. Women bring a lot to the table. When you feel fear, push through it and realize how strong you are. And trust your gut. Never second-guess yourself.
By: Denise K. James