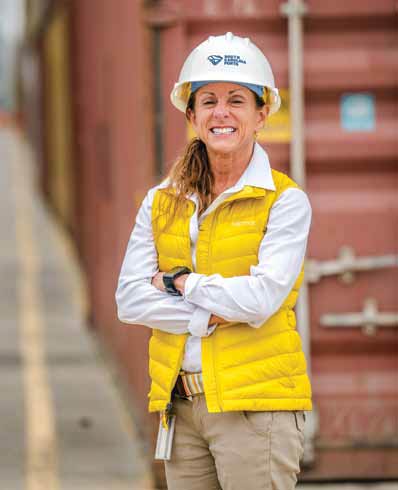 One hand grips the steering wheel of a Ford Explorer nicknamed Dora, the other waves to everyone she sees as she navigates her way around the South Carolina Ports Authority's Wando Welch Terminal. On three or four occasions a day, Barbara Melvin leaves the confines of her office and spends some time traversing 350 acres or so of cranes and other equipment, anywhere from 17,000 to 22,000 shipping containers, trucks coming and going, and usually one or two huge ocean-going vessels.
"I want to make sure I know our folks," said Melvin, 47 years old and a Mount Pleasant resident for the past decade. "I like to be seen, I like to leave my footprints everywhere and I like to be involved."
Short in physical stature but long on experience and loaded with responsibility, Melvin has held several positions with the Ports Authority since 1998. She currently serves as senior vice president, operations and terminals, which means she's in charge at Wando Welch. Of the port's 580 employees, nearly 90 percent report to her, and she's played a key role in some of SCPA's most momentous projects, including the purchase of its cranes and the deepening of Charleston Harbor.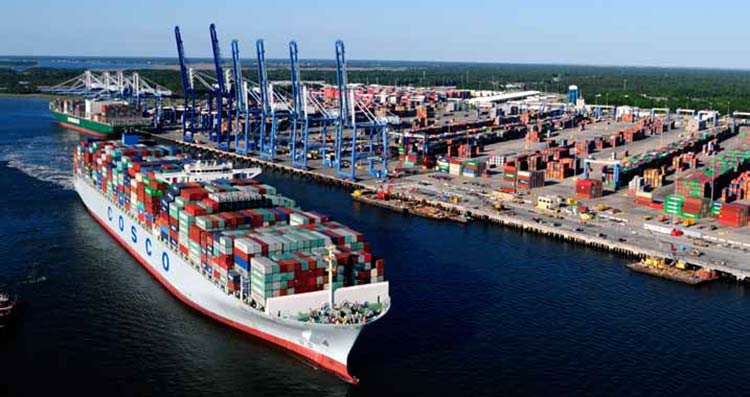 Melvin might be the only woman in the United States in such a high position in the shipping industry, traditionally a man's world. She insisted, however, that her gender really doesn't matter, though she was cited as the Charleston Women in International Trade's Woman of the Year in 2014. To her, it's all about getting the job done.
"That's not important. The team doesn't look at me that way. My job is to provide the people and resources we need to be successful," she said.
A graduate of Georgia Southern University with a bachelor's in Political Science and a minor in International Relations, Melvin worked in planning and budgeting for Georgia Gov. Zell Miller for four years. She was a lobbyist for the Charleston Metro Chamber of Commerce before starting her lengthy career with the Ports Authority. SCPA's first in-house government relations liaison, she also has been in external affairs, public relations and community relations.
She joked that her parents were both excited and relieved when she was appointed to her current job in September 2015. She said all those "sexy" terms in her previous job titles – liaison, relations, affairs – "sounded like a spy movie."
As the top dog at Wando Welch, Melvin is responsible for terminal operations, carrier sales, information technology and support services, crane and equipment maintenance, engineering, environmental issues, the port police and cruise operations.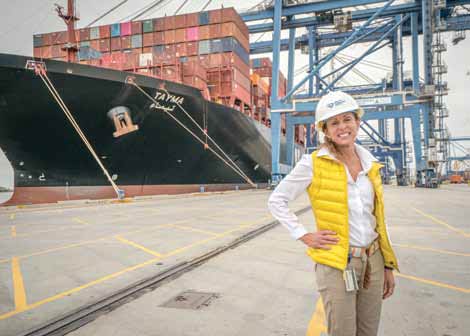 All that apparently is not enough to keep her busy. She also serves as the lead project manager for the Ports Authority for the harbor deepening, which is scheduled for completion in 2020 or 2021. She coordinated with the Army Corps of Engineers and other agencies on the project, which will take the depth of Charleston Harbor from 45 feet to 52 feet.
"It was fun, interesting, difficult and rewarding," Melvin commented. "And it will have a lasting impact on the state. This could be the last time we have to deepen the harbor."
There's much more going on at the Wando Welch Terminal. For example, a renovation project that strengthened the wharf – one berth at a time, so the port could continue to set record volume levels even while the work was ongoing – and cranes that now soar 155 feet above the dock permit the port to handle larger ships.
"We're now hosting two 14,000-TEU ships a week. Before, the normal was 8,000, though one 10,000 TEU shop was calling," Melvin pointed out.
A TEU is a twenty-foot equivalent unit, so a 40-footlong container would be two TEUs. Melvin said that in the fiscal year that ended in June 2017, the port handled a record 2.14 million TEUs, a 10-percent increase over the previous year.
Melvin's fingerprints are all over the port's new cranes as well; she traveled to Shanghai with two operators to test the most recent purchases. She pointed out that eight of the port's nine cranes will be in place by the end of June, with one more on the way from Asia. She said so they can pass under the Ravenel Bridge, the cranes are shipped and delivered in three pieces: the legs, the base and the boom.
Deepening the harbor, commissioning new cranes and renovating the wharf would seem like enough activity to keep Melvin and her team busy, but another major project is underway at the Wando Welch Terminal. The Ports Authority, which recently sold its building in downtown Charleston, is in the process of building a new headquarters in Mount Pleasant, just outside the gates of the port. The state-of-the-art facility will bring around 200 employees under one roof.
"We were so spread out, we didn't know each other," Melvin said. "With the new office, we'll understand better what everyone does."
The 84,000-square-foot building, scheduled for completion in December 2018, will include a gym, a cafeteria and walking trails and "all the bells and whistles," according to Melvin, all perks that are necessary to attract experienced and talented employees.
"Twenty percent of the people who work at the port will retire in the next five years, so we need to recruit people," Melvin said. "We'll use the new building to help us do that. We have to compete. We're in that game, too."
Melvin was quick to point out that the port could not win that game without the more than 500 people who work under her supervision.
"The best thing about my job is the team. We have the best team in the world in loyalty, productivity and safety. We're above anyone else. There's no way we could get it done without the team," she said.
She also pointed out how important the port is to the Lowcountry.
"The port is impactful," Melvin said. "It's a large contributor to the economy. Any thriving city should have multiple things that make it stand out. Charleston has tourism, medical, diversity and the port. We're very lucky to have all that wrapped up in one beautiful place."
By Brian Sherman