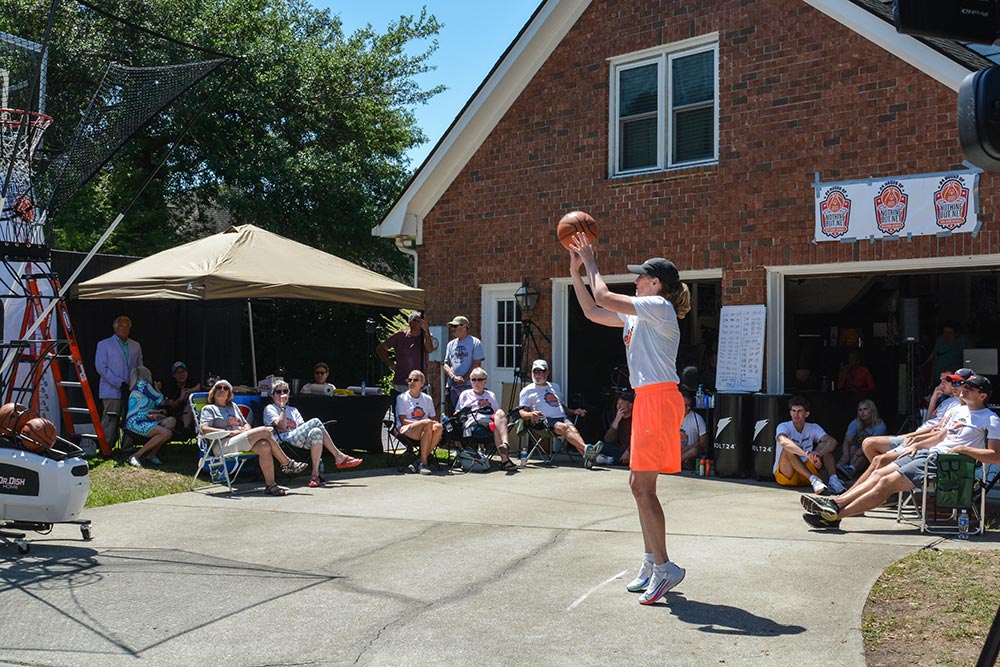 Mount Pleasant resident and ESPN analyst Debbie Antonelli loves the sport of basketball and has found a way to link it with another of her passions. "In the next two years, I want to raise $1 million for the Special Olympics, even if I have to shoot until my arms fall off! I wake up every day thinking about it," she vowed.
Her annual fundraiser works like this: Antonelli shoots 2400 hoops in 24 hours — 100 an hour. She doesn't eat or sleep. The next day, when the task is finished, she and her son Frankie climb the ladder and cut down the net.
"It's the elation of completing the task. The first year, we raised $85,000 with 325 people donating; the second year, $125,000 with 650 people donating; and last year, $200,000 with 980 people donating. So far, we've raised $410,000. And my average is 92% — so I can't understand at my age, 57, how collegiate players can't make free throws!"
Antonelli hopes the fundraiser will become a national event. "I don't want to say I'm Jerry Lewis, but … We livestream on Facebook and YouTube and cut away periodically to well-known entertainers and other people, including the president of Special Olympics, to add content. It's nationally produced. ESPN came to us live in the driveway last year. I'm making the 2,400 throws myself, but in other states, they may choose to do a relay."
But she doesn't care how they do it, as long as they raise money, she said.
Antonelli described how her project began. "The need for Special Olympics funding and my job viewing sports through an offensive lens, whether shooting or analyzing. I've got an incredible career, but the fundraiser is a focus."
Her middle son, Frankie, was born 24 years ago with Downs Syndrome. "It's so important for families with special needs children to live their lives, and sports can be a part of it. Those without time or money are helped with the Special Olympics. My son and children like him are my motivation. It's what makes our story more compelling — because it's from the heart."
When Frankie was young, Antonelli helped to establish the Lowcountry Buddy Walk to raise money for the Downs Syndrome Association of the Lowcountry. Later, she co-founded Frankie and Friends, an anti-bullying campaign in schools. Frankie has travelled around the country, speaking on its behalf. He is now a student in Clemson's LIFE Program, which prepares young adults with intellectual disabilities for employment and independent living while living on campus. There, Frankie is on an intramural sports team and is a manager of Tigers women's basketball. He's also in a fraternity and has a job.
Antonelli's professional career in sports began at North Carolina State University, where she played guard on the women's basketball team for four years under Coach Kay Yow, with whom the team went to the NCAA Tournament four times and to the Sweet 16 twice. After college, Antonelli became the marketing director at Kentucky and at Ohio State and successfully lobbied for women's basketball games to be aired on local television. She became the Buckeyes' announcer for five years.
Since then, Antonelli has announced professional and collegiate women's games for CBS, Fox Sports Net, NBATV and others. Four years ago, she became the first female analyst in 25 years to broadcast an NCAA men's basketball tournament game, and she continues to announce men's basketball on CBS. Antonelli has won Emmy and Gracie awards for broadcasting and is currently a full-time analyst and announcer on ESPN. This year, Antonelli was inducted into the North Carolina Sports Hall of Fame, but she considers getting her former coach's name on the court at NC State University another of her top achievements.
Antonelli's interest in promoting women's sports has a local presence, too. She hosts a summer sports camp for girls aged 5-11 to introduce them to 20 different sports. She said, "It's valuable for young girls' self-esteem. My motto is 'build, serve, empower.'"
Antonelli describes herself as relentless, passionate and fair. "I've got an incredible career, but the Special Olympics fundraiser is really the main focus. Give me a penny for every shot I make — 2400 — and that's only $24. Regardless of how much they donate, I write a personal note to everyone because it is that personal to me. Next year, if we can make $250,000, I will write all those thank you notes — and I can't wait to do it."
Visit 24HoursNBN.com to donate.
By Mary Coy