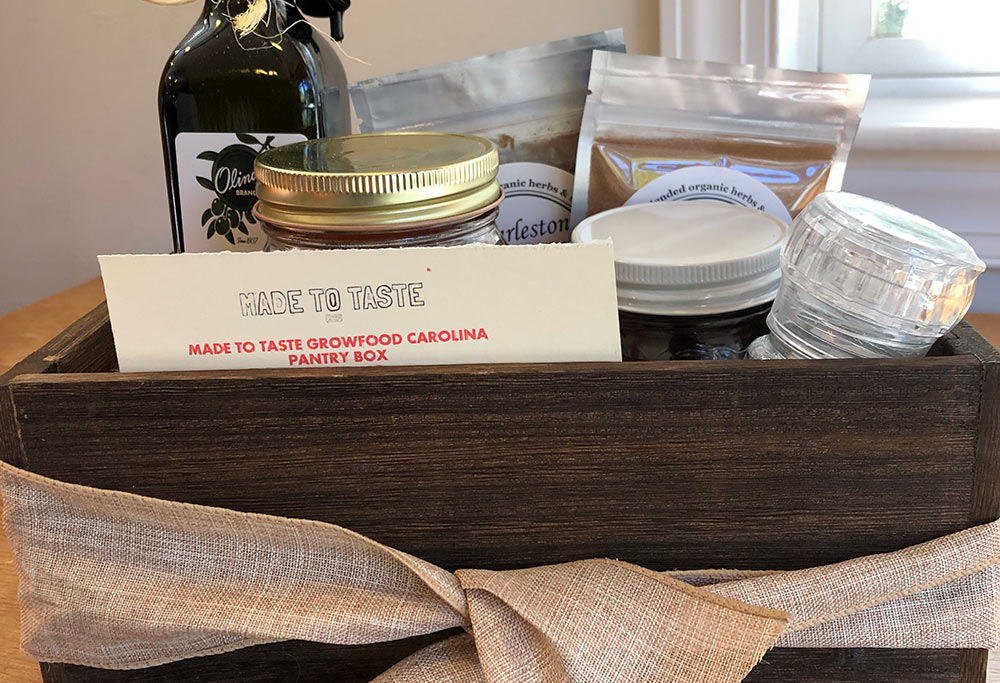 Have you ever sat down to plan your holiday menu and thought, "all that is missing is the heat of competition?" No? Maybe it was the social distancing talking, but this year, we invited a healthy dose of rivalry into our kitchens with a virtual bake-off, and it turned an ordinary(ish) holiday dish into the star of the show. We're welcoming you into our kitchens to share the story of our dessert triumph and encouraging you to participate by entering into a fantastic foodie giveaway. But first, you're going to have to bake a souffle…
How I Landed on Pumpkin Souffles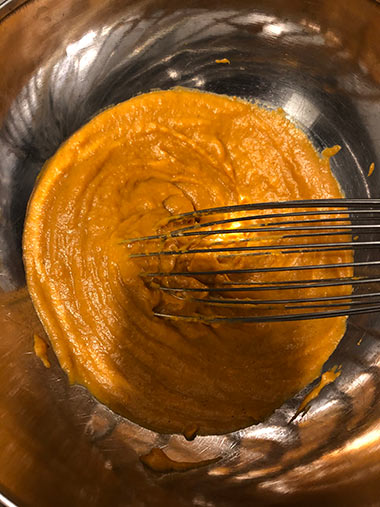 This Thanksgiving was gearing up to be…different, although in my household there is no normal when it comes to holidays. Being the wife of a police officer means that you get used to waiting to open Christmas gifts until your husband wakes up at 2 p.m. and celebrating holidays on completely different days than the rest of society. In that sense, this year would be the same.
My family planned our Thanksgiving feast with my parents in Bluffton for Wednesday evening, though it wouldn't be quite as big of a feast this year, as my brother and his wife were holed up in their Washington loft instead of chasing their gigantic Weimaraner around my parents' backyard. But there was good to be found in a smaller, less traditional Thanksgiving: there would be no pumpkin pie.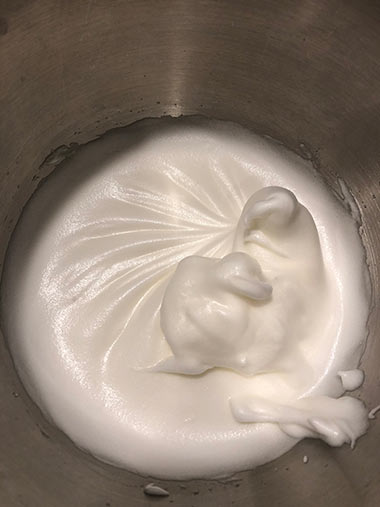 Every one of my family members, with the exception of my mother, would agree that pumpkin pie is not for us. Yet every year we make one. This year, I was in charge of dessert, and I vowed it was time to put an end to the pumpkin pie once and for all. Hours were spent scouring the Epicurious app. Should we try a vanilla-spiced caramel and pear tart? A butternut squash tarte tatin? A pecan-orange baklava pie? I asked my husband a handful of times but failed to get a helpful response. I was on my own.
Then I saw it. A recipe for spiced pumpkin souffles with bourbon and molasses sauce. My mom could have her pumpkin flavor, we could all avoid the baby food texture and a souffle would look impressive without being overly challenging. Did you read that right? Yes, I said that souffles wouldn't be overly challenging. Making a good souffle isn't really rocket science. It all comes down to folding light, airy beaten egg whites into the flavor component as carefully as is humanly possible in order to avoid deflating them. I had made souffles successfully about 10 years ago, so why would these be any different?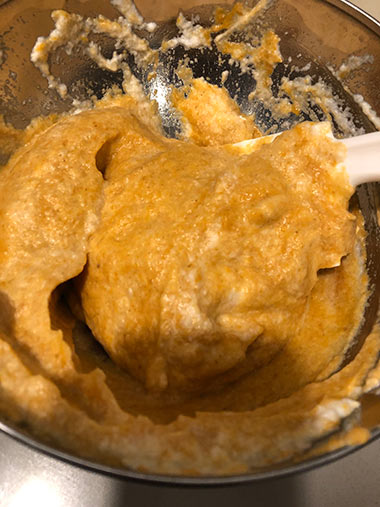 I feel like I need to issue a disclaimer here: I have never lacked confidence in the kitchen. As someone who has nurtured a sourdough starter since March, I've done my fair share of baking this past year. I'm also a rules person, which lends itself very well to being a baker. I've always believed that if you have a good recipe — which is not always the case, frustratingly — and follow the directions to a T, you can't go wrong.
So spiced pumpkin souffles made it onto the Thanksgiving menu. When I told Pamela what I planned to do, she responded, "How bold!" It was then that the plan was hatched…we would each try our hand at this souffle business and see who came out on top. Literally. The virtual bake-off was born.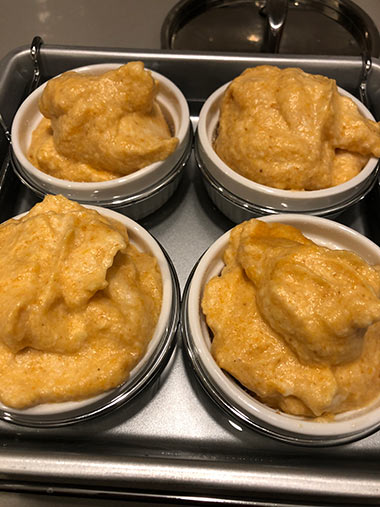 On Thanksgiving Day (aka Wednesday), I lazily made the sauce after lunch and set it aside to be reheated later. Next, I worked on the pumpkin mixture. After combining the milk, cornstarch, spices, sugar and pumpkin, I gave it a taste. It was not delicious. A bit of worry began to creep into my mind, but I assured myself that the egg whites would have plenty of sugar, and the sheer volume of them would tone down the flavor. Hopefully.
After dinner, my parents headed out to the patio, my husband and daughter went to the playroom, and there I was, left to bring the whole thing together. I whipped those 10 egg whites until they were stiff, and then I whipped them some more. I folded them ever-so-gently into the pumpkin mixture, leaving a few white specks because white specks are decidedly better than flat souffles. Then I popped them in the oven and let them do their thing.
And boy did they do their thing. They rose up and out of their ramekins as if they were on a mission to overtake the oven. Being my own worst critic, I instantly regretted the decision not to level off the tops for a nice, smooth look. However, my real "critics" seemed to like the look of the craggy, mountain-like structures I set before them. And the taste was out of this world. It had all of the flavor of a warm, spiced pumpkin pie with a light-as-air texture that made you feel like you could eat two – my mom almost did. They gave me perfect scores across the board – not surprising, since my husband has a propensity to declare any dish that I make for him his favorite. I on the other hand had to knock points off for appearance. I've always deemed my food "ugly delicious," and tonight was no exception. But I'm no more proud of it.
Before we could even meander over to the couch, my mind began to race. The souffles were everything that I had hoped they would be, but…what would I make for Christmas? I have my eye on a buche de noel with meringue mushrooms, but maybe I'll go with a fig crostata. Or a sticky toffee pudding.
How I Turned the Heat Up on Thanksgiving Dessert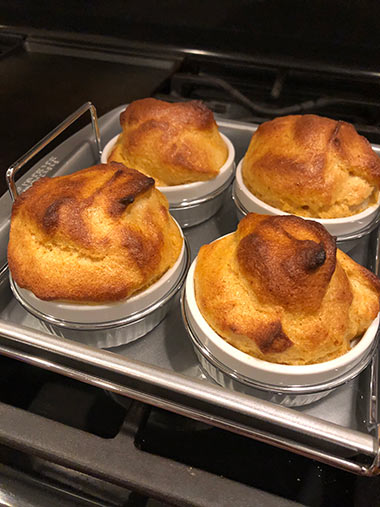 There are two things you need to know about me: first, I love a competition, even if I'm absolute rubbish at it, and second, I am a reluctant cook but a self-proclaimed baker. So when Lindsay mentioned that she was making souffles for her Thanksgiving dessert, I countered with a challenge. It was the best of both worlds. Plus, it sounded like the perfect way to literally turn up the heat on an otherwise pandemic-squashed holiday.
Like many, our Thanksgiving plans had been dashed. We traded the typical Thanksgiving turkey with extended family in picturesque Blowing Rock, North Carolina for lunch for four on our own deck. Having a bake-off, albeit virtual, sounded a little exotic, which shows you just how desperate we are for adventures after 2020.
Souffles are not to be scoffed at. It's a baker's benchmark of success; a mouthful of airy perfection in every bite. Could I rise to the occasion? You betcha! I even bought a brand-spanking new set of four 6 oz ramekins in a water bath but we don't need to mention that to Lindsay…
Truth be told, I did my homework. I watched a couple of videos and got friendly online advice from some Michelin-starred chefs. The key to a souffle is two-fold. Making sure you separate the eggs properly is paramount. No 'goldfish,' as one chef termed it — flecks of broken yolk that make their way into the egg white mixture. Yolk equals fat, and fat will instantly add weight, which you want to avoid at all costs. For the second tip, refer to Kenny Rogers: "You've got to know when to fold them" — that is, fold the peaked egg white mixture into the pumpkin mixture while retaining as much air as possible in the process. I like to think I perfected the 'flick and fold' technique: a flick of the wrist while holding the spatula as I made large, grandeur gestures to introduce the two mixtures together. "Pumpkin meet egg; egg meet pumpkin."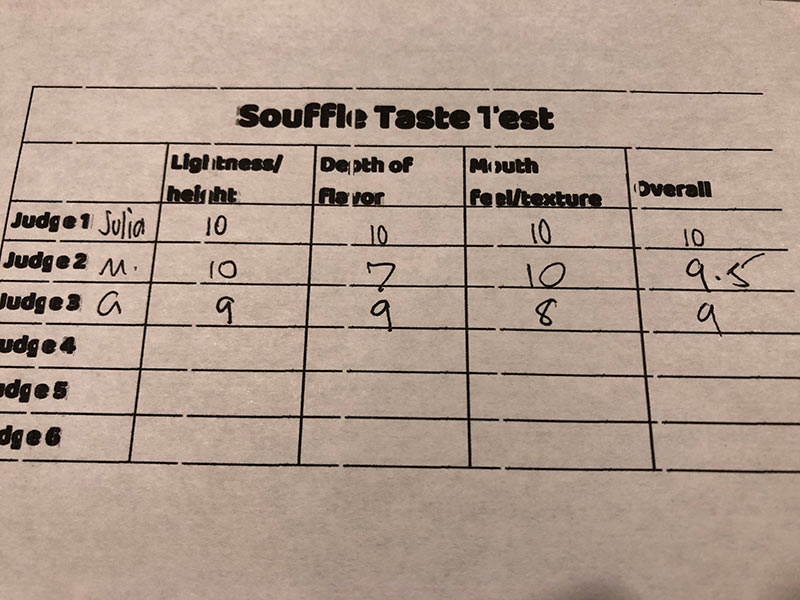 I decided to make my souffles while everyone was still comatose from consuming large mouthfuls of turkey during a late lunch. I prepped my ramekins and pre-heated the oven. My daughter hovered closely — a bit too close. A budding baker, she was ready with oven mitts in hand, but I curtly told her to back off. Mother had this one in the bag, and I wanted it to be all me, success or failure, so no one else got my ire if things fell flat. That included threatening my teenage son within an inch of his life if he found it amusing to make loud noises while the souffles were baking.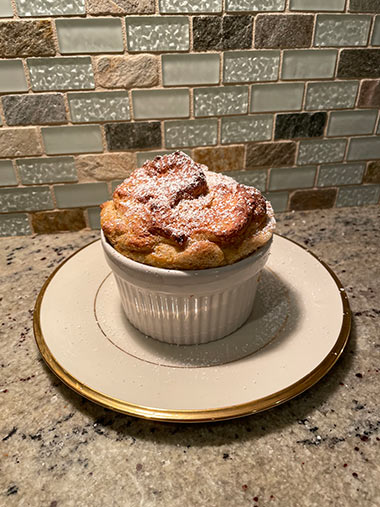 I heaped the mixture into the ramekins and slid them into the oven with a quick sign of the cross. Baking is, after all, a somewhat religious experience, even a leap of faith. And then I waited for about 12 minutes, cracking open the oven door from time to time to give them a little encouragement, bucking conventional wisdom and throwing caution to the wind. I was a baking rebel, and for once the baking gods were on my side and didn't punish me for my brash overconfidence.
Four high-hat souffles were my reward and my prize. I grinned from ear to ear as I took photos. I am sure my giddiness had nothing whatsoever to do with taste-testing the ingredients in my bourbon-molasses sauce which was, err, quite strong.
Now for the moment of truth. My competent and completely unbiased judges had four categories to judge my baking in: Height of Souffles, Depth of Flavor, Mouthfeel and Texture plus an Overall Score. The pen was passed around. My daughter, with one eye on her growing Christmas wish list, gave me all 10s and went to savor her souffle on the couch. My son, still smarting from his mother bringing up grades at the dinner table, gave me 9s and an 8 and then an overall score of 9, which confirmed my suspicions about his math abilities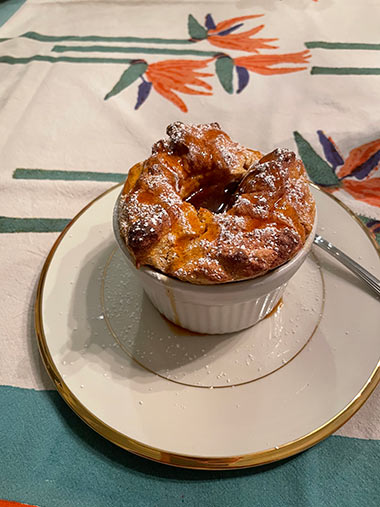 I waited for my husband to give his expert opinion. He is the chef in the family, and there is no denying his abilities in the kitchen when it comes to savory options. I, on the other hand, have 'prep-cook' and 'baker' printed on my apron, and I am proud of those accolades even if prep-chefs get absolutely no credit. He gave me a 10 for lightness and height — I did have a good two centimeters on the rim of each ramekin — a 7 for depth of flavor — which is really because he doesn't like the taste of pumpkin — and a 9 for mouthfeel, since it did melt in your mouth. Overall score: 9.5. Sounded like he had the same math teacher as my son, but I wasn't going to look a rounding-up gift horse in the mouth.
I still have to review Lindsay's scorecard and compare photos, but I consider the whole episode a complete success, and I'm consulting cookbooks as you read this for savory as well as sweet variations to try on my family of willing guinea pigs at Christmas. That, and I still have time to change that 7 into a 9.
Now it's your turn. Below, you'll find the recipe for this delectable pumpkin souffle. Whip one up for yourself, or serve it to your entire family, but be sure to take some great photos because we're offering our readers a chance to win a Holiday Larder Box from Made To Taste (madetotaste.com) that includes olive oil from Olinda Olives & Co, local honey from R&R Acres, Charleston sea salt from Bulls Bay Sea Salt, Poudre Douce and Cocoa Nib Rub from Charleston Spice Company and Bloody Brilliant Bloody Mary Mix from GrowFood Carolina.
To enter, share your prettiest souffle pics on Instagram and tag @charlestonwomen. After the holidays, we will randomly choose a winner. Good luck and may the egg whites be ever in your favor.
Recipe for Spiced-Pumpkin Soufflés with Bourbon and Molasses Sauce
Recipe by Shelley Wiseman, courtesy of Epicurious
Ingredients
½ cup whole milk
1 tablespoon cornstarch
¼ teaspoon grated nutmeg
¼ teaspoon ground cinnamon
⅛ teaspoon ground allspice
Pinch of ground cloves
1 ½ cup plus 1 tablespoon granulated sugar, divided, plus additional for coating ramekins
¾ cup canned pure pumpkin from a 15-ounce can (not pie filling)
10 large egg whites
½ teaspoon salt, divided
¼ cup plus 2 tablespoon water, divided
3 tablespoons bourbon
3 tablespoons unsalted butter
1 ½ tablespoons molasses (not robust or blackstrap)
Garnish: confectioners sugar
Equipment: 8 (6-ounce) ramekins
For the Souffle:
Whisk together milk, cornstarch, spices and 1 tablespoon granulated sugar in a small heavy saucepan. Bring to a boil over medium heat, whisking, then simmering, then whisking for 2 minutes.
Remove from heat and whisk in pumpkin. Transfer to a large bowl and cool to room temperature.
Preheat the oven to 400°F with a rack in lower third. Butter ramekins and coat with granulated sugar, knocking out excess, then put in a large shallow baking pan.
Beat egg whites with salt in another large bowl, using an electric mixer until they hold soft peaks. Add remaining ¾ cup granulated sugar a little at a time, beating, then beat until whites hold stiff, glossy peaks, 1 to 2 minutes more.
Fold one-third of whites into cooled pumpkin mixture to lighten, then fold in remaining whites gently but thoroughly. Divide mixture among ramekins, mounding it.
Bake soufflés until puffed and golden, 18 to 20 minutes. Dust with confectioners' sugar and serve immediately.
For the Sauce:
Bring sugar and 2 tablespoons of water to a boil in a small heavy saucepan over medium heat, stirring until sugar has dissolved, then wash down any sugar crystals from the side of the pan with a pastry brush dipped in cold water.
Boil without stirring, swirling pan occasionally so the caramel colors evenly, until caramel is dark amber. Remove from heat and stir in remaining ¼ cup water, then stir in bourbon, butter, molasses and salt.
Return to heat and simmer, stirring to dissolve any hardened caramel if necessary.
Cook's notes:
Pumpkin mixture (without egg whites) can be made 1 day ahead and chilled. Soufflés can be assembled 1 hour before baking and kept in the freezer.
Baked soufflés can be repuffed if necessary in a 400°F oven for 10 to 12 minutes. Serve quickly afterward, as they will deflate a little faster the second time around.
Sauce can be made 1 day ahead and chilled. Reheat in a microwave or double boiler until liquefied.