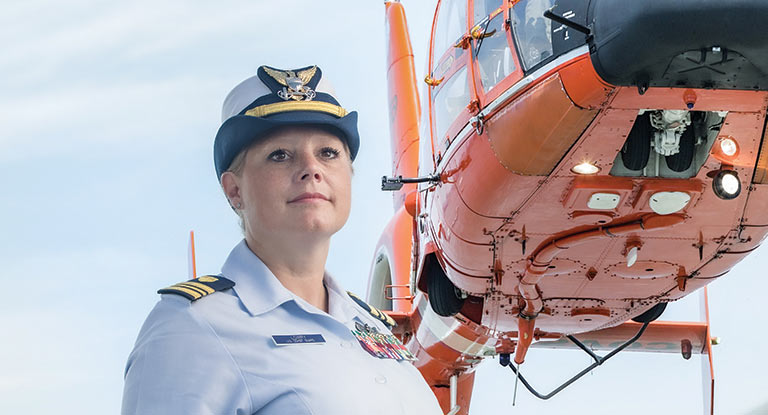 Cara Lowry , Sector Charleston Logistics Department Head / Commanding Officer of Enlisted Personnel and Budget Officer, United States Coast Guard
Cara Lowry was born in Florida, and, with strong family ties to the military, has always been interested in serving her country.
"My brother served in the Navy and from the time I was in middle school, I knew I wanted to go into the military," she explained. "I considered the Marine Corps because my uncle was a Marine, but after my dad met with a Coast Guard recruiter and I learned about their missions, I decided to join the Coast Guard because of the law enforcement aspect."
Lowry's family was very supportive of her decision, especially her grandfather, a veteran and recipient of a Purple Heart. "He was actually the one who brought me to the Military Entry Processing Station — MEPS — which made it even more special."
Lowry graduated high school in 1997 and started boot camp less than a month after graduation. As she learned more about the military, she realized that she had a strong desire to become an officer. She dedicated her time toward this goal and eventually went on to serve both active duty and reserve as an officer. Lowry and her family became Charleston transplants more than 10 years ago. She explained how "unexpectedly, we found our way to the Lowcountry for the first time in 2009 when my husband was still on active duty in the Coast Guard and received orders here as well. From that time, we have both served in multiple units and states but have maintained a house here. My husband retired from active duty service four years ago, and now we call Mount Pleasant home. Our children have grown up here, and they love it."
Lowry has a variety of responsibilities in her role, including managing more than 500 people. "I work with a great team and oversee engineering, armory, personnel administration and supply divisions. Our area of responsibility extends from North Myrtle Beach to Brunswick, Georgia."
Because she joined the Coast Guard at age 18, Lowry was able to experience firsthand what it's like to be a young woman in the military. "For me, that experience as a woman has been just that: an experience. There've been ups and downs just like anything, and I also try not to define my service as being a woman but rather as a servant wearing my country's fabric."
She explained that in the Coast Guard, there have been recent efforts toward making it a more equitable environment. For example, in the past, there were restrictions placed on women's hairstyles. Women with long hair had to pull their hair into a bun with a diameter fewer than 2.5 inches. However, now women in the Coast Guard can wear ponytails, rather than a slicked-back bun.
Alongside changes in regulations, Lowry described the new policy changes taking place that benefit all future military parents. "One of my greatest joys is being a mother of two wonderful — now adult — teenage children. When they were born, I was on active duty, and I was off for about six weeks," she remembered. "Now, maternal and paternal program policy support is very different. It allows both parents to take an extended period of time to spend with their newborn or adopted child."
When she's not on active duty, Lowry works full time at the VA Medical Center in Charleston. She's a devoted member in the Junior League and of her local church, and when she's not serving her community, she's caring and advocating for her special needs child who has Fragile X, a rare genetic condition causing intellectual disabilities.
To the future generations of women interested in the Coast Guard, Lowry advised them to "enjoy the journey and always look for something you can learn from to use it or the greater good."