The Story of the Cocktail Bandits: A Bar Crawl to Success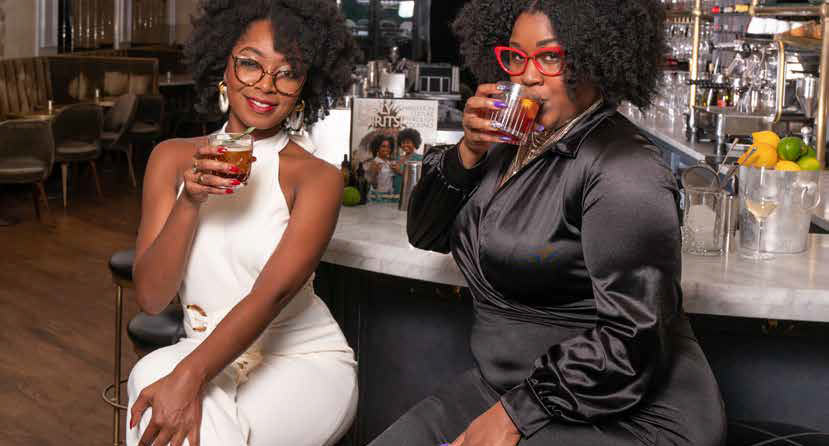 It's always fun to settle in with a glass in hand and tell the story of the Cocktail Bandits.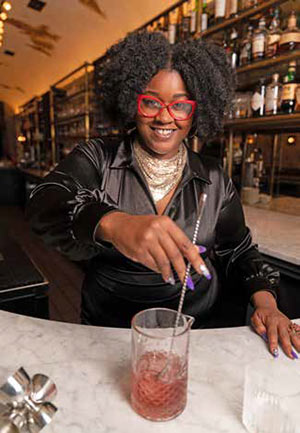 We met many years ago at the College of Charleston, when we were both freshmen and excited about the future. We majored in political science at a school that was very homogeneous in both tradition and in thought, and we always felt we stood out as African American women. We developed a love for CofC and all that goes with college life – hanging out in different local joints, trying new food and, of course, dancing. Johnny and I were always aware that we were among a handful of African American women who frequented these establishments, and while we embraced it, we recognized the disparity.
After we finished college, Johnny went to law school, where she studied intellectual property and trademark law, and I returned to the workforce. I had always worked in customer service, whether it was in restaurants or in retail, but never on the beverage side of hospitality. The first and only bar where I worked was in downtown Charleston on Market Street. The experience was lifechanging and eye-opening. From there, I received several opportunities to bartend in high-volume bars around the North Charleston and West Ashley areas, and I continued to learn and grow in my trade.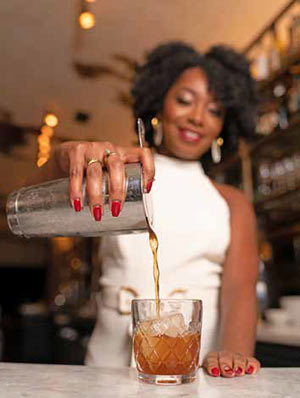 Johnny frequently visited me at any bar where I worked and sampled cocktail recipes that I created on the fly. She offered feedback, and when other customers saw her enjoying a cocktail not listed on the menu, they wanted to try it too. We both realized the complexities and possibilities of beverages in the craft cocktail industry, and we saw potential for careers that extended beyond the edge of the bar.
Around this time, Johnny graduated law school and co-founded a business called "The Movers and Shakers Mix." Created as a result of having difficulty finding work in the legal field and needing a forum to meet potential employers, "The Movers and Shakers Mix" was a quarterly networking event where young professionals gathered to talk about their local endeavors. Guest speakers addressed captivated audiences, composed mostly of minority entrepreneurs.
A TOAST TO YOUR VENTURE
Tips on Creating a Successful Business from the Cocktail Bandits
Do what you love.
Network and collaborate — you'd be surprised at how many people are willing to help you with your dream.
Be the change you want to see.
Make self-care a top priority.
Create your own personal mission statement, and stick to it.
In the beginning, say "yes" to everything, and figure it out later.
Always try to keep a positive mental attitude. Yoga, meditation and exercise help when it's difficult.
Forgive yourself quickly. Starting a new business is difficult, and you will make mistakes. Forgive yourself, pick yourself up and keep going.
Each mixer featured a complimentary "signature" cocktail, and eventually we secured local and household alcohol brands to sponsor the signature offering each quarter. As we learned more about the business of beverages, we wanted to take our craft to the next level. We created our trademarked Instagram handle, Cocktail Bandits, and set out on a mission to educate, entertain and empower through craft cocktail advocacy.
We worked hard to learn as much as we could about spirits and the beverage industry through membership in the United States Bartender's Guild, which included access to industry events and more opportunities to learn about liquors. We realized that this was a whole new world, and we wanted to share it with our community. We approached The Charleston Chronicle, the only Black newspaper in Charleston, with an idea to write a weekly entertainment column to let people of color know what was happening in our fair city. They agreed, and we started writing about our adventures throughout Charleston, sharing custom recipes inspired by these experiences.
In order to create ongoing content, we also followed The Charleston City Paper and attended all of the free events for the week — most events would feature some type of libation — then covered those experiences in our weekly column. People latched on and began to recognize us around town. Further down the road, we received an awesome feature from The Charleston City Paper, and that's when our lives and business concept changed. Soon after the feature, we were requested by The Lee Brothers to curate a cocktail that represented the Lowcountry for the 2015 Atlanta Food & Wine Festival. This exposure allowed our Instagram page to flourish and established us as adult beverage authorities.
Since then, we have received business opportunities locally, nationally and even internationally. In 2017, we were approached to write our book, "Holy Spirits! Charleston's Culture Through Cocktails." The book is the first cocktail book written by Black women in America and includes more than 50 original cocktail recipes. With our business constantly evolving, we have many more creations in the works too, including designing cocktails for every occasion.
We've included our top three recipes for the winter months.