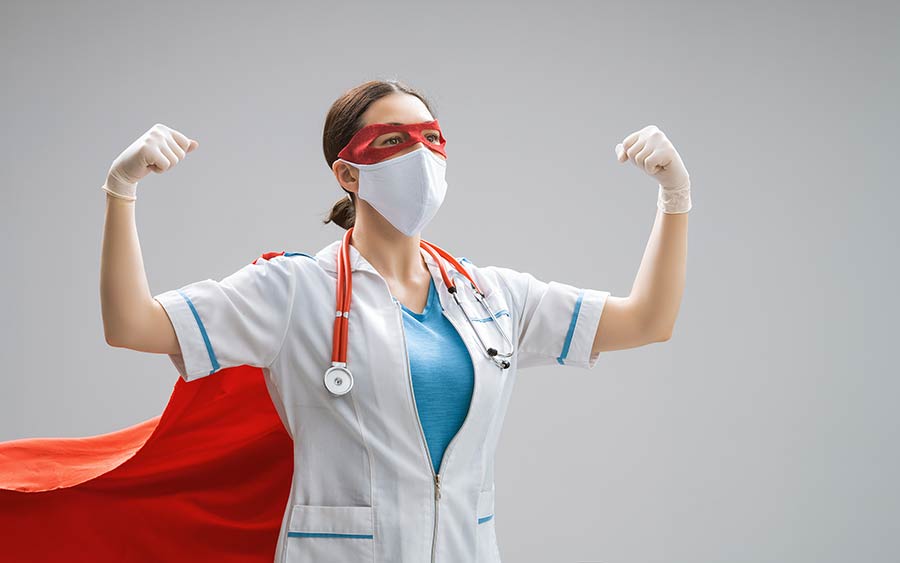 The pandemic has changed lives around the world and put those in the medical field in the spotlight. Ellen Nitz knows this firsthand due to her work with the Charleston County School District as Director of Nursing Services. Because of COVID-19, Nitz doesn't just have the role of director; she is also the spokesperson for the media. This isn't a typical task for a nurse director, but Nitz has seamlessly taken on this role and is happy to speak about her work with CCSD.
Growing up, Nitz lived all over the country — her dad was in sales. "He was good at it, too," she commented, explaining it was the reason for the frequent moves. Because of all those occasions starting over, she feels she "has never known a stranger." She now calls Charleston home and has been with the CCSD since 2007.
Nitz worked in various medical jobs before she landed her current position with the CCSD three years ago. She's worked in neonatal nursing, been a pharmaceutical representative and was a nurse manager for 10 years. She describes the work she does as a nursing director as "the perfect mix of her background in medical sales and communication skills."
But it is not an easy job. Because COVID-19 has completely changed nursing everywhere, including in schools, many guidelines are constantly evolving. Still, Nitz claimed the pandemic hasn't had a totally negative impact for school nurses — the last couple of years have seen both pros and cons. For one thing, Covid allowed parents and the public to really understand the importance of school nurses. "Before, people thought of a school nurse as someone who gives a student a Band-Aid. Now, school nurses are able to shine, and people can see how important they truly are," Nitz explained.
That's also what the most rewarding part of her job is — Nitz loves to showcase what her department is capable of, especially when helping students and their families. The pandemic has exemplified how essential a school nurse is within each school.
Even though there have been positive aspects, school nurses still face significant hardships. The pandemic has brought on extra burdens for nurses trying to ensure their student's safety, identifying cases and keeping track of contact tracing. "There were over 4,000 additional staff hours because of contact tracing. The biggest challenge is staying updated," she said. "There are new variants, and we have to constantly stay flexible with the changing guidelines."
Her job has taught her to adapt and to learn how to reach out and work with DHEC, MUSC, the city of Charleston and other departments and entities, keeping up to date with the ever-changing guidelines. She noted that 'How can we improve?' is the one key question she is always focused on.
While COVID-19 is the biggest challenge she's ever faced in her career, Nitz fortunately was not completely unprepared. About 10 years ago, there was a disease outbreak in Mount Pleasant that, at the time, was thought to develop into something large-scale. Even though the outbreak didn't drastically spread like Covid, Nitz felt she had learned a lot from her experience at the time. That experience allowed her to go into the pandemic feeling a little less blindsided, as well as being more flexible and willing to adapt to new health-related circumstances.
As CCSD's nurse director, Nitz faces daily challenges, but those who work with her could not be more appreciative. Andy Pruitt, the CCSD's Director of Communications, called Nitz a "Godsend." He explained that Nitz had built relationships even before the pandemic, proving she really hadn't ever met a stranger. Her dedication to relationship building helped to lead to the nursing team's success in South Carolina's second-largest school district. Pruitt expressed how the team could not be more thankful for Nitz and all her hard work.
It's true that Ellen Nitz has her hands full, but she values her job and embraces the challenges. It is clear to see her passion for her career and each student's safety.
By Samantha Kramer