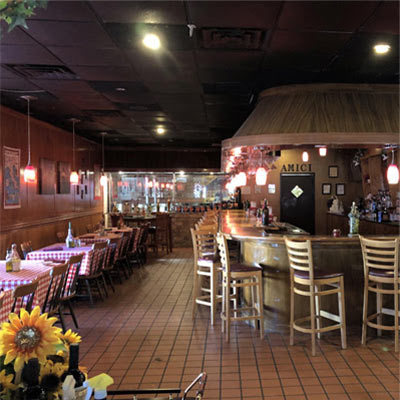 Amici's Italian Bistro has endured many things since Jennifer French took ownership over seven years ago. She is thankful to the guests that kept them going through hurricanes and ever-changing pandemic protocols. Patrons have supported her Facebook video series, cooking classes and cookbooks, on top of dining at the trattoria.
"The community has been great," French said. "They gave us a chance."
French joined the restaurant as a server in 2012. A year later, she was promoted to manager. Before long, the restaurant was sold to a buyer from Italy. French stayed on during the transition but learned that her goals and the new owner's did not align. She went to work elsewhere until the owner approached her to buy him out.
"God left this restaurant in mine and my son's lap," she attested. "We raised it like a baby."
Amici's is a family business. Josh, French's husband, enjoys being the taste-tester, according to his wife. Her daughter Abby serves as manager, while her son and co-owner, Tom, and son-in-law, Anthony, both work as chefs.
Amici's success is rooted in French's Italian heritage. Her grandparents were Brooklyn Italians. Building on their New York roots, French and her son perfected the chicken Amici, their take on chicken Marsala.
Besides the food, regulars at Amici's love the Chianti bottles on the tables and the Sinatra era music. The authenticity and warmth keep guests coming. Amici means "friend," and Amici's Italian Bistro welcomes every guest as such.
For more information, please visit AmicisItalianBistro.com, or call 843- 225-4786.
By Isabel Alvarez Arata