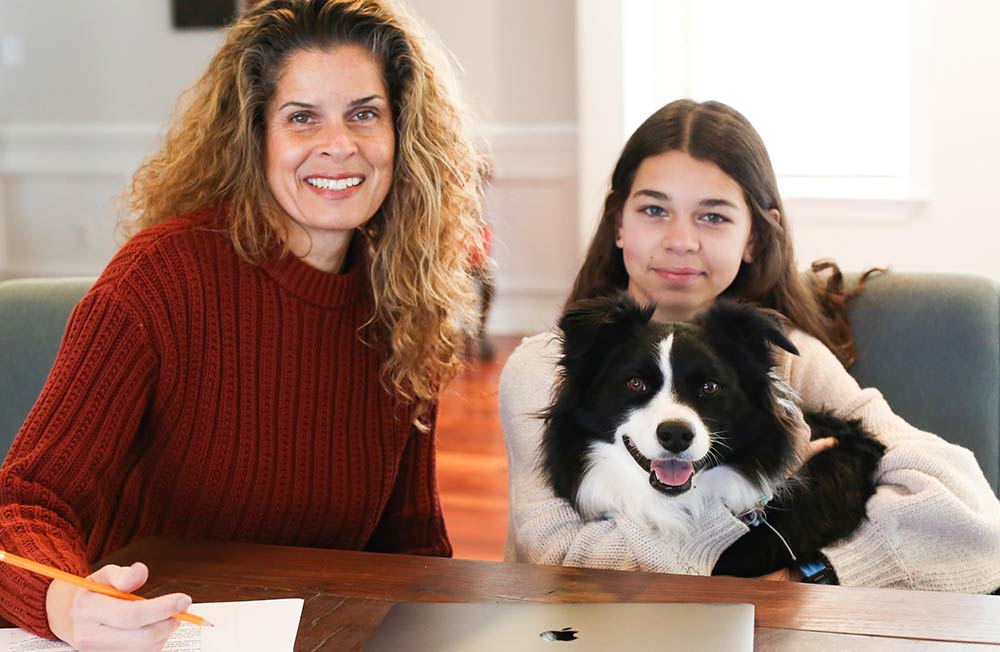 For as long as I can remember, my daughter Julia has been running. She started when she was 5, jogging smartly next to me on the long, wide streets in our neighborhood in Brooklyn. Soon after, she started to enter races and began winning. Neither of us ever thought her steps would translate into words on a page.
When the pandemic hit and schools were initially closed, Julia, a seventh grader at Laing Middle School, and I decided to start a writing project. She had always enjoyed writing as a creative outlet. We really wanted to write a story where we could alternate chapters told from our own points of view, but we eventually settled on a fictional story about a fifth grader, new to coastal South Carolina, who joins a running club. We called it "TURTLE."
We sat down together and outlined a basic story, with a main character that was loosely based on her own experiences. We had collected so many stories about running, meets, coaches and team interactions over the years that the pages really wrote themselves. We had moved to Mount Pleasant four years ago, so it was also fun to write about being a new kid in school because that was still a vivid memory for her. As much as this is a middle grade sports fiction book, it is also a story about Mount Pleasant — called North Point in the book, one of the original names for the area. You might recognize landmarks, schools, and, of course, the very distinct way of life that we are fortunate to now call part of our own story too.
In "TURTLE," the main character, Emma Jackson, finds her self-worth on the track. She initially gets sidetracked by the wrong set of friends but eventually realizes her strength on the track, her track sisters by her side. The book was cathartic to write for many reasons, but unknown to us in the beginning, it became a great platform to inform, educate and inspire. By adding practical information about aspects of running, the book took on a new dimension. We decided to make it the first in a series we call "Run Like A Girl." The series will not only entertain readers with Emma's running journey, but also identify and tackle the tough hurdles female athletes encounter: mental challenges, physical setbacks of a changing body and social distractions.
The reality is that by the age of 14, girls traditionally drop out of sports at twice the rate of boys, according to the Women's Sports Foundation. The "Run Like A Girl" series is a challenge to all female athletes to stick with it. "TURTLE" takes a first step to address the stigma of girls in sports by first planting a seed about what team running can offer them: confidence, leadership, community, purpose, self-discipline and a realization that running like a girl is something to aspire to.
We dedicated this book to Coach Tami Dennis of Mount Pleasant Track Club, who is a huge inspiration for the book — and, spoiler alert, a main "fictionalized" character. We also decided to kick off the book launch with a fundraiser for Julia's team. We raised $1,000 to offset travel costs for female athletes. On the heels of that, we connected with Girls on the Run, an organization that helps girls identify their inner strength. In February, we held a book signing event at Athleta in Mount Pleasant Towne Centre for their benefit. We are also in the process of reaching out to track clubs everywhere to set up similar fundraisers. The goal is to help level the playing field for girls and have these efforts directly benefit them, whether paying for booster fees, a new pair of running shoes or a uniform. Writing a book never felt so right, especially since my daughter and I got to be on the same page about a subject we are passionate about.
For more information about Pamela Jouan-Goldman and Julia Goldman, go to runlikeagirlbooks.com.
By Pamela Jouan