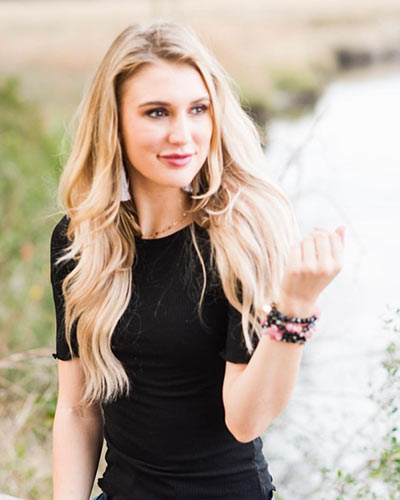 Eliza Limehouse and I are talking about our horoscopes – she's a Capricorn, and right away, I see how the sign suits her. The ninth-generation Charlestonian is no stranger to hard work. Starting at age 7 she embarked on years of helping with her family's hotel business, Limehouse Properties. A natural lover of people, young Eliza thrived at the hotel front desks, chatting with friendly guests who came and went. She also helped with social media, marketing and interior design.
It's likely readers recognize her name from guest and star appearances on seasons four and six of the Bravo show "Southern Charm," but Limehouse has since decided to move on to other projects. Today, the future looks bright for this 25-year-old and, thanks to her generous heart, bright for many others as well.
Limehouse's jewelry business, Snaffle Bit Bracelet Company (named in honor of her love for all things equestrian) was originally a side hustle while she continued working with the family business. However, it has taken on a life of its own. What started with beaded bracelets soon flourished, and now Snaffle Bit offers a wide array of baubles, from the original bracelets to finer jewels. But the company isn't just about adding the perfect necklace, ring or bracelet to accessorize an outfit; its impressive philanthropy gives back to worthy causes across the Lowcountry and the whole globe.
"I have trouble picking just one thing I'm passionate about," Limehouse confessed. "So, every month, [the company] selects an organization or a cause in need— we have done everything from Hurricane Dorian relief to breast cancer mammograms in partnership with MUSC."
Typically, one special bracelet supports a singular cause — just recently, for example, a pineapple bracelet supported fertility treatments for women, since pineapples are a symbol of IVF. However, by the time you read this, the Snaffle Bit Bracelet Company will have not one but three new bracelet designs to support disaster relief in Ukraine. The idea sparked when one of Limehouse's friends, who serves in the military, was helping Ukrainian refugees and met the founder of a nonprofit called the Human Kind Fund. Monies from these three bracelets by Snaffle Bit Bracelet Company will assist the nonprofit in helping refugees locate safe spaces for themselves and their family members.
"I wanted to provide disaster relief for Ukraine with a bracelet but didn't know how at first," Limehouse noted. "Once these bracelets are made, they will help provide more hotel rooms for more refugees."
Limehouse's personal philosophy is that we make time for what matters to us — and clearly, a great deal matters to her, as a successful business owner, philanthropist, wife and mother. Even her off-duty time is far from idle; new and old passions are always calling.
"I'm passionate about helping anyone I can," she added. "I only wish I could do more."