There are certain types of leaders who just "get it." They are the kind who plant trees where future generations will seek shade. They are the boots on the ground who make sure individual parts are turning to move the whole. They naturally look at the world as a place for "us" and not for "me." These are the kind of people who keep the world not just spinning but functioning, who make sure society's most basic needs are met. Dreamers have their place, but it isn't here. These leaders are the doers, the foreseers and the ambassadors of production. This is the kind of leader Barbara Melvin, the newly named CEO of the South Carolina Ports Authority, has always been.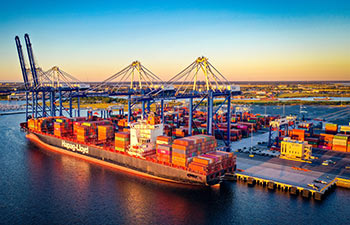 The South Carolina Ports Authority, or SCPA, is a top-10 port in the United States, employing over 800 men and women, but facilitating over a quarter of a million jobs statewide. It generates almost $63.4 billion annually and is headquartered in an 84,000-square-foot facility here in Mount Pleasant. Trade routes span across the globe, connecting not only the Lowcountry but the entire nation to the rest of the world. The port, established in 1942, is the evolutionary product of Charleston's maritime commerce, its roots dating back to the founding of Charles Towne, a harbor city destined for trade. The port has a responsibility to provide an enormous number of jobs, exchange tons upon tons of goods daily, ensure safety, promote efficiency and even preserve a piece of history. Leading such an important and high-yielding facility is a tall order for anyone. However, after speaking with Barbara Melvin, it became clear why she was chosen. It's what she was crafted to do by both nature and nurture.
When deeming a person qualified for any occupation, people often focus on the nurture first: the education, the training, the titles and the awards. Melvin could rightfully boast about all of those things. She has a degree in political science and an EMBA in global chain supply from the University of Tennessee. She was the 2021 South Carolina Manufacturers Alliance Woman of the Year and the 2022 recipient of the Woman of Courage award. She has held countless leadership titles with the port and other civic and governmental organizations. She is a leader in social, philanthropic and business entities throughout the Charleston community and beyond. These things are beyond impressive, but it takes more than an outstanding resumé to lead such a large group of actual human beings while all parts operate like a well-oiled machine. It takes an x-factor — something in one's nature. Something had to be the catalyst to collect the long list of achievements. It takes the woman behind the accolades to complete that recipe—the recipe that built the first woman in history to run a top-10 U.S. port.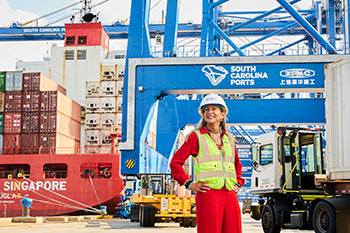 Melvin was encouraged by her parents to "take intelligent risks" from an early age. She was also enthralled by politics in a unique way. She didn't dream of perching behind a podium and delivering the State of the Union while both sides of the aisle stand roaring with applause. Instead, she was fascinated by how things ran and by what made all the parts of the world work. She was the rare political enthusiast who loved policy and focused on the functions of concrete things that make the world move. She was focused on how people were able to work, eat and live at the micro and macro levels. What's more is that she could envision it and facilitate it. The bottom line: she always had a heart for people and for the good of the world as one body. Without that, the accomplishments would have never been sought out and that impressive resumé never built.
When Melvin was growing up, it wasn't necessarily the norm for girls to be encouraged into fields like infrastructure, logistics or trade policy. However, Melvin indicated that this was never an issue for her. "I've never been told that I'm not qualified to do something I wanted to do. I was never discouraged," she said.
The simple answer is that Melvin was always qualified—because she was the first one to refuse to question it. She never believed she wasn't qualified, and the fruit that fell from her tree spoke to that. She didn't hear scoffs in the background, if there were any. She didn't feel threatened or competitive. She also credits her success to listening to people more than talking. That's probably what allowed her to collect the information she needed to establish plans that made sense for large groups or organizations. She just continued to work toward goals that benefitted the greater good no matter her position. She never saw a need to edge anyone out, but to make room for more and to make room for progress.
"When a pond is full, I would just rather build a bigger pond. Our job is to leave the door open behind us," she relayed.
That's exactly what was done for Melvin, and what she intends to do for whomever comes after her. Before 2018, Melvin wasn't sure she'd end up as the chief executive officer of a port. However, her predecessor, Jim Newsome, believed deeply that she was up next and bestowed greatness upon her.
Melvin said, "His faith in me gave me greater faith in myself."
Once she realized her destiny, she stepped up to the plate even more. Before her official coronation, Melvin led the port in 15 consecutive months of record-breaking cargo volume. Reaching the top only made her fight harder. Now she sees her ultimate goal as preparing the port for an even stronger future once the sun has set on her time. She makes efforts to build coalitions and collaborations, to correct pitfalls (that she admits having a gift for foreseeing) and to prepare the port for smooth transitions into the future. She wants to make sure those wheels that turn for thousands of people every day keep turning. Her life's goal is success for not just one, certainly not just herself, but for all.
"Whoever said there's a work/life balance was lying. It's a lot. But I do have a great group of women where I can relax and be myself," she shared. "I exercise in the morning, and I spend weekends in the Keys when I can. Years from now, I'll be there all the time. But one of the best gifts you can give someone is a great job. I want to make sure that continues on. That's my big dream for the future."
The Ports Authority of South Carolina is in great hands — hands that will possibly create even more opportunities for tomorrow than they do for today. Because of that, the future for thousands of South Carolinians continues to shine brightly with promise for job stability, economic growth and access to commodities. That sounds a lot like hope…for everyone.
Port Timeline
1682
– Charles Town established as port of entry for Carolina colony
1783 – International slave trade was a major component of Charles Town's port activity
1830 – Railway system established linking port of Charleston with inland markets
1863 – Port activity and docks devastated during Civil War
1882 – Columbus Street Terminal constructed
1897 – Jetties constructed at entrance to Charleston harbor
1921 – Ownership of the port transferred from Charleston Terminal Company to City of Charleston
1942 – SCSPA established and assumed ownership of the port
1955 – Columbus Street terminal expanded to accommodate three ships
1966 – First containership arrived at Columbus Street terminal
1972
– Property for Wando Welch Terminal purchased by SCSPA
1981 – First container ship arrived at Wando Welch Terminal
1982 – Charleston became first port in U.S. to digitalize port information
1997 – SCSPA acquired property on Daniel Island
2002 – SCSPA acquired property at Old Navy Yard
2013 – Inland Port Greer opened in the Upstate
2016 – Charleston Harbor Deepening Project initiated
2018 – Inland Port Dillon opened in the Pee Dee
2020 – Port recognized among "Best Places to Work" in the state
2021 – Hugh Leatherman Terminal opened at Old Navy Yard
By Lorna Hollifield