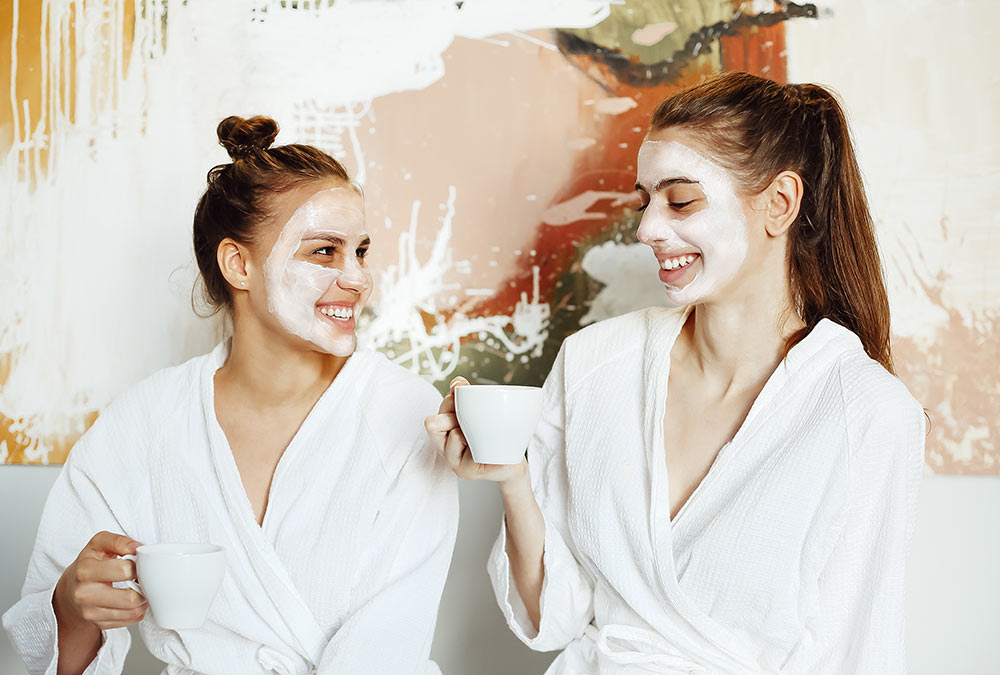 Valentine's Day brings out a variety of emotions. Many people love the romance, chocolates and flowers, while others dread it no matter their relationship status. Whether you love Valentine's Day or hate it, you can make the holiday more fun by planning a Galentine's Day celebration this year. Galentine's Day, a holiday coined by the TV show "Parks and Recreation," falls on February 13 and is a day to honor your female friendships.
Best of all, you can have a girls' day out without ever leaving Mount Pleasant. Take advantage of some of the local offerings with your closest girlfriends and appreciate the love and support that your friends provide.
Kick off the day with brunch.
Are you a "Parks and Rec" die-hard? Then you know you can't have a Galentine's Day celebration without brunch. Commemorate Leslie Knope's beloved waffles with the famous chicken and waffles from Page's Okra Grill, winner of Best Brunch in Mount Pleasant Magazine's Best of Mount Pleasant.
If waffles aren't your thing, don't worry — there are almost too many amazing local brunch spots to choose from. Eggs Up Grill, Vicious Biscuit, Red Drum and Grace & Grit all offer delicious brunch options. Eat your heart out.
Get your sweat on.
If your idea of fun is a little more active, try booking a private fitness class for you and your girlfriends. Working out with friends can make exercise more fun, and you can try something new with the encouragement of everyone around you.
One of the best group classes to take is yoga. Anyone from a total beginner to a professional yogi can fit into the same group, and you can choose a class that doesn't require extra equipment. Check out the class offerings at Core Power Yoga to stretch it out.
Barre and spin classes are both trendy and a ton of fun. Pure Barre and Cyclebar have some of the area's best classes, teaching an effective workout to large groups with great instructors. Or take your workout outside and head off on an adventure with Coastal Expedition's kayak, paddleboard, canoe and hiking tours.
Unwine-d and get crafty.
Wine and paint parties have become a classic girls' outing for good reason. You can hang out with your girlfriends, sip on your favorite drinks and chat, all while flexing your artistic muscles. Wine and Design offers multiple chances to paint and sip every week. Join in on one of the classes already on the calendar or book your own private party. Choose a painting everyone will like, and even the beginner artist among your friends can easily create a beautiful piece.
Not feeling the paint? Wine and Design has other craft nights on their calendar like making a chunky knit blanket or a wooden sign. They even offer take-home craft kits so you can get crafty wherever you want. If the weather's nice, get your friends together for a backyard or front porch paint party.
Treat yourselves to a spa day.
If the rest of your week seems hectic, take the time to relax with your galentines at one of Mount Pleasant's spas. Spa days are a perfect way to celebrate with your best friend or with a small group. Whether you prefer a facial, massage, pedicure or wax treatment, spending time with your besties at a spa will leave you feeling your best.
Woodhouse Day Spa is one of the top spas in the Charleston area and offers more than 70 treatments for clients to choose from, including their award-winning Minkyti facial that makes your skin glow and relaxes your mind.
Glowspa, another popular choice for Mount Pleasant residents, has all of the standard spa offerings, like facials and massages, but is best known for their float therapy tanks, where guests can float in a saltwater bath that reduces external stimuli, creating a relaxing and meditative experience.
Grab a beer with the girls.
Brunch, crafts and spas are typical girl's day activities, but if you'd rather try something different, head out on a local brewery tour with all of your friends. Some of the best breweries in Charleston can be found right here in Mount Pleasant.
Westbrook Brewing is considered one of the top breweries in the area, especially according to Mount Pleasant Magazine readers, who voted them Best Craft Beer. With a rotating lineup of 22 beers as well as bottles, cans and growlers to enjoy your favorites at home, everyone's sure to find a beloved brew. Beer enthusiasts can also hang out in the outdoor beer garden and enjoy the mild Lowcountry weather.
Two Blokes Brewing, another Mount Pleasant favorite, combines local ingredients with Australian inspiration — the late owner was an Australian native— and frequently hosts food trucks for patrons to grab a bite along with their beer.
With all of these options, there's no way your Galentine's Day celebration won't be memorable. No matter if it's a few hours or an entire day, pick your favorite activities and enjoy some of local attractions while spending time with your girls.