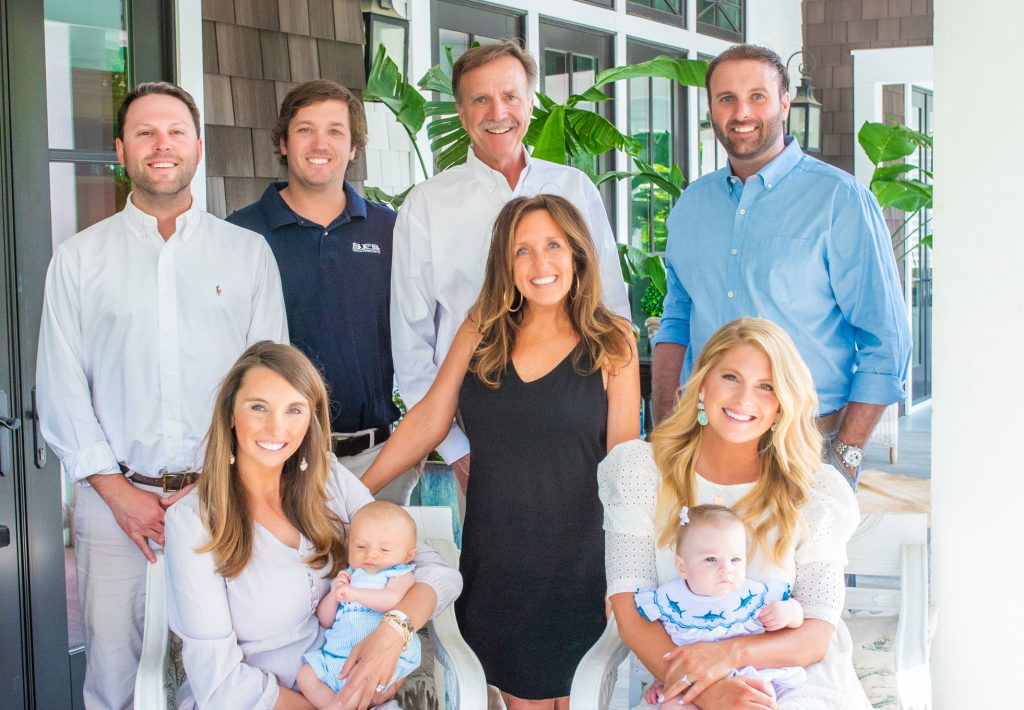 Schirmer Insurance Group is family owned and operated by Sam and Gina Schirmer, leading a business that understands just how important family is in every sense of the word. Gina and Sam Schirmer both grew up in families that worked hard in running their own businesses, a shrimp boat captain and insurance agent, respectably. It was no surprise that their children were drawn to similar situations. What was a surprise was learning the daily maintenance required to keep both business and family dynamics separate and healthy.
Here is their story as told by
Gina Schirmer:
As parents, it is our job to teach our children and nurture them, to give out advice, guidance, and love. To help them take those .crucial steps forward and support them when they stumble. It has made watching their post-college lives take shape that much more rewarding, especially when we are watching center stage.
My grandfather started an insurance business in Greenville in 1953. I often found myself filing and running the front desk when I was on vacation from school. It was when I met Sam in college, and we were married, that my grandfather encouraged Sam and I to open an insurance agency of our own in Mount Pleasant in 1983. You can imagine what it is like when our family all gets together during the holidays. The conversation can easily shift to what we love to do but we try hard to separate out work talk and family time.
Our son, Sass, joined the family business shortly after college in 2011, and we opened a location in Carnes Crossroads. Our daughter Grayson always worked at our agency during summer vacations during high school but committed full time after college as well. Grayson also has her own equestrian business called Top Call Therapy. Our youngest son, Hawkins Schirmer, has his own forestry services business, Schirmer Forestry Services, that he opened in 2018. Working with each of them from business planning, setting goals and objectives and creating their financing has been an exciting journey and has deepened our respect for each other. Raising them with Christian morals and values have truly enhanced the business ethics that we work hard to maintain within this family entrepreneurship.
Leadership is also a family and business element that must be executed with patience and smiles. Switching between the parent role and the business leadership role can be most challenging. I often times will physically, with a swoosh of my hand at the brow of an imaginary hat, state, "I am switching now to my Mom hat." As ridiculous as it may seem, it does provide an action of change and it helps to steer our comments and actions in the right direction.
It is extremely inspirational to both Sam and I to now watch our children push forward as business owners and parents, and to take on leadership roles of their own, developing the drive and determination that we worked hard to instill in them at an early age. As long as they are living by the morals, values and ethics that are important to all of us, they will be successful. Blending it all together can be challenging and takes a lot of love and patience from us all but we focus on "our" motto at home and at work – "Always put God and family first."
For more information on the Schirmer Insurance Group, visit sigsc.com, or call 843-881-4707.