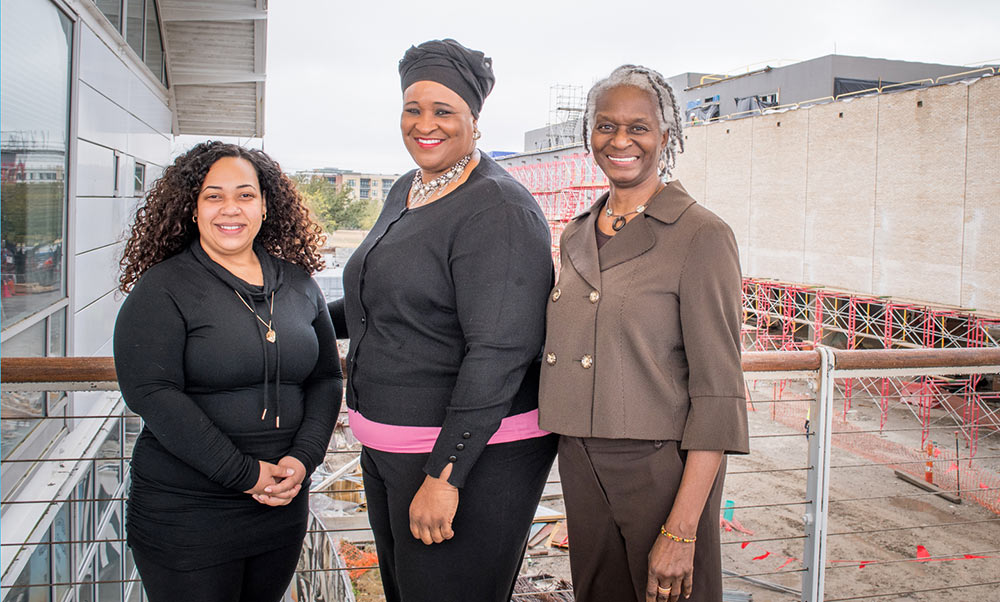 The International African American Museum, located in Charleston, is scheduled to open in 2022. It will tell stories about journeys that began centuries ago in Africa and yet still continue. Millions of Africans, captured and forced across ocean waters, arrived at Gadsden's Wharf in Charleston and other Atlantic ports. Despite the grueling labor, their resistance and remarkable ingenuity has shaped every aspect of our world today.
The 2016 biographical drama film "Hidden Figures" was based on three brilliant African American women — mathematicians Mary Jackson, Katherine Johnson and Dorothy Vaughan. Employed by NASA, they calculated flight trajectories by hand, using analytic geometry. In 1961, they were the brains behind one of the greatest operations in history: the launch of astronaut John Glenn into orbit. Though their roles were significant and instrumental at the Langley Research Center, they were hidden — segregated —because of their race and gender.
Most recently, thousands of individuals have become contributory participants in the dawning of the IAAM, a place to honor the untold stories of the African American journey. Not long ago, I learned about the pivotal roles three local African American women play in the materialization of this project. Unlike the women of NASA, they are visible for all to see.
Rev. DeMett Jenkins – Director of Education and Engagement for Faith-Based Communities.
Born in France and raised in Charleston, she is the granddaughter of the late Esau Jenkins, a civil rights activist from Johns Island. Rev. Jenkins has a criminal justice degree from South Carolina State University and a master's of divinity from Virginia Union University's Samuel DeWitt Proctor School of Theology.
Please describe your role at IAAM.
I bring awareness about the museum and its site of consciousness; build relationships with faith-based communities regionally, nationally and internationally; and create programs with those faith communities or organizations in the form of workshops, forums, symposiums, lectures and/or events, to encourage those faith institutions to become members of the museum. I travel extensively, meeting with clergy and faith-based leaders.
Who were your influencers that sparked your curiosity of African American history and culture?
I grew up in a family where Black history was always discussed. My aunt and uncle are history teachers and made sure we knew and understood our heritage. Steeped in knowledge about our African ancestry, my family took every opportunity to teach us more. My uncle taught a weekly Black history class for many years to anyone who wanted to attend. Classes became so involved, they later moved to the church on Johns Island. My grandparents, parents and family members remain influenced by the great work of African Americans, and we celebrate this history daily, monthly and yearly.
Martina Morale – IAAM assistant curator
Originally from Lafayette, Louisiana, she's lived all over the United States and holds a bachelor's degree in history from Benedict College, a master of liberal arts degree, history concentration, from the University of St. Thomas in Houston, as well as certificates in public history and museum studies from the University of West Georgia.
What does one do as the assistant curator at IAAM?
Currently, I work in all aspects of exhibition development with a more recent focus on artifact and image acquisitions. Once the museum opens, I will continue working to keep our long-term exhibits relevant, while also assisting with development and curation of our traveling exhibition program.
Can you describe what life is like for you as the assistant curator?
Right now, my work is particularly exciting, as I assist in building the artifact collection. Based on the content of each exhibit, I research and locate historical and contemporary items that illustrate the stories. To locate potential artifacts, I have to be familiar with all aspects of each exhibit. One day my focus is on a South Carolinian; the next day I could be researching artifacts related to trade and navigation in ancient Africa.
What will be your favorite exhibit, and why is it so special to you?
Because I work with all the exhibitions, it's difficult to select just one. However, as a former United States history professor, I am drawn to the scope of our exhibition on United States history as a lens into the history of the African Diaspora.
Cheryl German – finance assistant.
Born and raised in the Old Village of Mount Pleasant, Cheryl attended the College of Charleston and, in addition to her role at the IAAM, she is the acting executive director of the Old Village Community Association Inc. and serves on the board of the African American Historic Settlement Commission.
What is your role at IAAM?
I help with recordkeeping, compiling, documenting and recording the distribution of funds used during the construction period. I am also developing detailed guidelines and procedures of a financial assistant for whomever is in this position in the future.
Is there a particular event/memory in your life that connected you to this project?
Yes, there are several. As an 8th grade student at Laing School in the Six Mile community of Mount Pleasant, I participated in the walk from Laing School to downtown Charleston in 1968, during the time of desegregation. My mother was a nurse at MUSC and participated in the nurses' strike. I have been involved with the first Afro American Society at the College of Charleston, The Old Village Community Association (OVCA) and the African American Settlement Community Historic Commission (AASC).
What will be your favorite exhibit and why?
Although this is a difficult question to answer, I think the Center for Family History. The untold stories will no doubt capture my attention the most.
In less than a year, there will be a new home for American history, right here in Charleston. The entire nation can experience a journey of centuries through exhibitions, learn from the past and celebrate the many contributions African Americans have made to this country.
While the film "Hidden Figures" is loosely based on a nonfiction book, the characters and their accomplishments as African American female mathematicians who worked at the National Aeronautics and Space Administration (NASA) during the Space Race are factual.
Now we have three local ladies, also doing great things — but in front of the modern world to see.
By Cathy C. Bennett