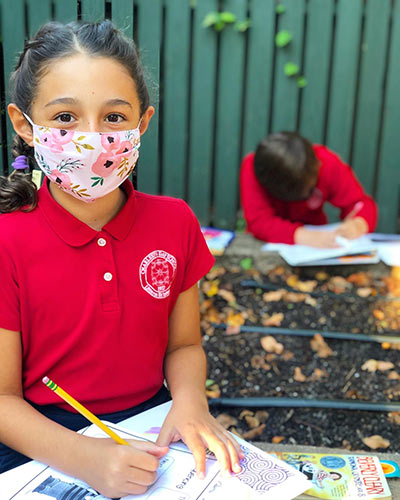 In the year 1907, the popular song at the conclusion of summertime was "School days, school days, dear old golden rule days." Who could imagine that the coming decade would bring a deadly world-wide pandemic? The Spanish influenza virus attacked first in spring of 1918 and then rebounded fiercely in October. Most schools closed, but some districts, including New York City and Chicago, made the controversial decision to remain open, on the premise that children would actually be safer in school where their health was closely monitored. The decision was largely successful.
Fast-forward to today — American parents and educators are facing a similar challenge. What do we do about our children's schooling during COVID-19? For Charleston Day School, the decision to re-open in August with full, five-day, face-to-face classes was not made lightly. Only 20% of South Carolina's schools made the same decision in September.
According to Judith Foley Arnstein, head of school at Charleston Day School: "Over the course of the summer, the school's COVID Task Force worked tirelessly — and in consultation with health organizations such as the CDC, DHEC, MUSC's Back2Business Group and other medical professionals — to develop a safe, comprehensive plan for our return to campus.
"We focused on two major areas in our planning: the health and safety of our community and the educational experience of our students. Protocols such as health screenings, mandatory face masks, frequent hand washing and social distancing are part of our daily routines. The school made a significant capital investment in adding iWave air purifiers to the HVAC units and investing in a Clorox Total 360 system to allow for sanitation of rooms and equipment. In addition, the entire school is treated regularly utilizing a NovaRover – the same machine utilized by major airlines for COVID prevention."
Additionally, the private school has revised the carpool protocols and increased the number of daily outdoor times for their 256 students. The PikMyKid app meets the need for daily screenings. An alternative learning plan was developed to accommodate students who opted to remain home, although almost all students have chosen to attend in person. Stringent sanitizing and housekeeping protocols are in place. In order to maintain the school's optimal student-to-teacher ratio in the classroom and social distancing protocols, there are more applications than there are openings for new students at this time.
Keeping each kindergarten through 8th grade class together throughout the entire day, including lunch, has required teachers to travel from room to room, which lessens cross exposure across the school. Fine arts, music and other electives remain robust and have been brought into the classrooms as well.
Charleston Day School is happy to announce that as of this article, no students, faculty or staff have tested positive for COVID-19.
To learn more about Charleston Day School, call 843-377-0315, or visit www.charlestondayschool.org.