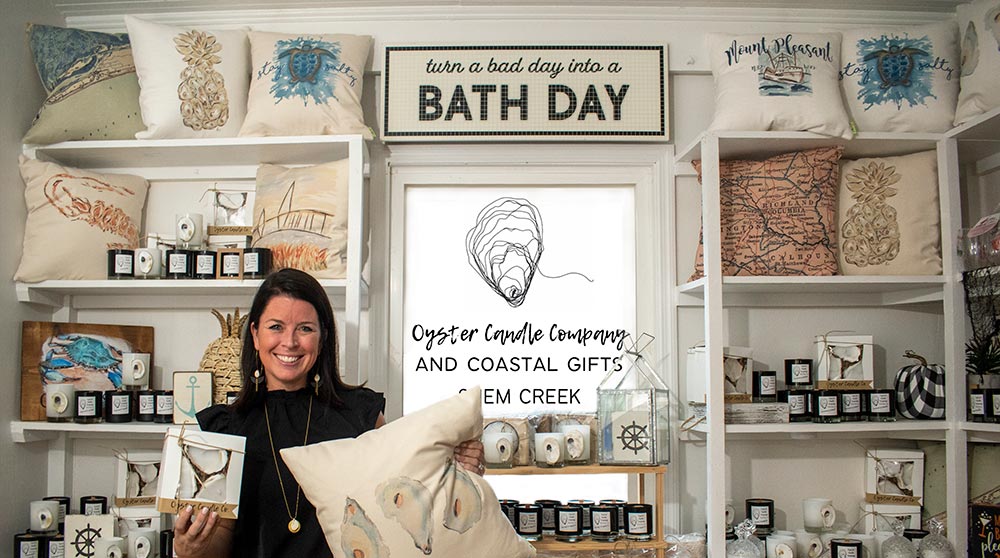 Oyster Candle Company & Coastal Gifts, the premier spot to shop locally, has been an inviting small business for Mount Pleasant since February of 2021. Before then, Oyster Candle Company had been operating in town since August 2018. As demonstrated in its name, Oyster Candle Company is known for its unique use of oyster shells. Owner Shannon Gallo hand-pours candle wax into decorated oyster shells to create a one-of-a-kind trinket; sourced from local restaurants, the candles are uniquely coastal.
Originally hailing from Texas, Gallo's experience in candle-making started in the Lone Star state. "We moved here four years ago," she explained. "We sold our candle-making business and moved to Mount Pleasant, and I thought I was done making candles. But then, the first fall we were here, I had the itch, and I thought, 'OK, we have to do this.'"
Besides oyster candles and traditional candles poured in glass, customers can also purchase an extra-large candle poured in a reusable wooden bowl. To save her customers money, Gallo offers half-price refills if you bring your bowl back in.
But the Oyster Candle Company isn't just a candle shop. Walking into Gallo's storefront location, you can easily find her iconic oyster candle. But as you browse, you can explore Gallo's curated displays of other products from various artisans.
"We have lots of jewelry, pantry items and other things available. Oftentimes, local vendors just come into the store to ask if we'd consider putting their products in our store. I like working with local people — I've traveled from market to market on weekends and know what it's like to try to build your brand," said Gallo.
Shoppers will find an array of curated products lining the shop shelves, many created by locals. Gallo interacts with creators to hand-select all the products in her store. Earrings made from repurposed surfboards, a Bloody Mary mix passed down through generations and SWAMP tonic bottled in Mount Pleasant are just a few of the products available at Oyster Candle Company.
Even your four-legged friends will love the products made in the Charleston area. Michael's Barkery pet treats are available in-store; prepared on Daniel Island at the Barkery Pet Spa and Boutique, the passion behind these treats comes from Michael himself and is inspired by his love for dogs and baking. Carolina Surf Dogs is the most recent addition to Oyster Candle's pet section, and a percentage of the sales for this product are donated to a variety of pet charities.
Every Thursday from 6 p.m. to 9 p.m., the store holds a Ladies Night Out featuring a 15% storewide discount and live music. The store's next-door neighbor, Coastal Crust, also offers a buy one get one half off deal with $5 frosés.
Because Gallo dedicates so much of her time to selecting unique items for Oyster Candle Company, it's the perfect spot to find a gift for everyone, no matter the occasion — both men and women can find something stylish and useful in the store. "We have something for everyone for the holidays," said Gallo.
By Allison Sherman