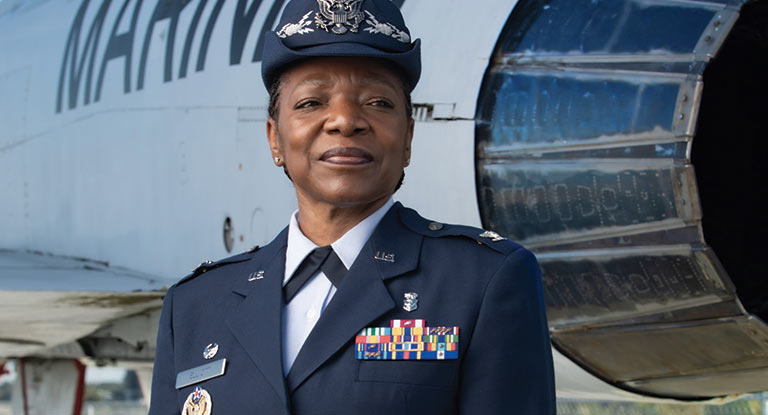 Rebecca Elliott, Colonel / Medical Group Commander / Director of the Defense Health Agency in the United States Air Force
Rebecca Elliott's encounter with the military began when she joined the Marine Corps as a recruit at Parris Island, South Carolina and landed at VMFA-333 Marine Corps Air Station in Beaufort for her first duty station. After serving her three-year active duty commitment, she separated from the Marine Corps and went to school to study nursing. A licensed practical nurse certification, an associate's degree, a bachelor's degree and a master's degree later, she ultimately became a family health nurse practitioner.
However, in 2001, things changed. "I decided after 9/11 that the Air Force may be in need of a skilled nurse. I contacted a health professions recruiter, and here I am today," she explained.
She received a direct commission in 2002 to the Air Force Nurse Corps. Her first job in the Air Force was as an emergency room nurse, but as time has passed, she has held several other positions as a certified family nurse practitioner, squadron commander, program manager, nurse corps fellow and deputy commander of a large medical center. Elliott explained, "Getting to this rank as an O-6 [Colonel] in the Air Force in our Nurse Corps is truly a blessing, and I am very honored."
"I have not gotten here by myself, and I have many mentors to thank who have assisted me along this journey," she added, crediting those who helped her along the way. "It takes a village — my supervisors, my peers, my subordinates and, most of all, my family and friends."
In her current position as the commander, she is responsible for managing more than 300 personnel and the overall operation of health care delivery for over 10,000 active duty, retired service members and their families. She ensures the 628th Medical Group personnel are medically ready to support deployment and home station medical response requirements, as well as ensuring the unit's Airbase Wing is medically prepared to support mission partners and combatant commanders worldwide.
In her career, Elliott has been able to spend time in cities around the world; a majority of her time abroad was spent in Germany. "I was able to travel and see much of Europe, just from being stationed in Germany. It was inexpensive to travel during my time there, and I was able to visit the Great Pyramids in Egypt. I visited Spain, several cities in Italy to include Milan, Naples, Athens and Venice and some of the Mediterranean islands."
When Elliott advises young women, she explains the importance of finding mentors. "You have to get mentors that look like you and those who don't look like you, because diversity and inclusion is very important. This is what I like about the military in general — regardless of the color of your skin or your gender, if you have the fortitude and the perseverance, you can do anything. You just have to believe you can and apply yourself."
"As a Black female or woman of color, to climb from the ranks of E-1 to O-6 in the military has not been easy. There were challenges and struggles, but I did not let those obstacles deter me. I must say, I had a lot of help along the way. I would love to see a future where we are not concerned about skin color but focused on an individual's potential," she added.
"Today, I can honestly say that, in my opinion, the Air Force is making strides toward diversity and inclusion through policy changes, crucial conversation dialogues and active listening. They have started knocking down barriers to be more diverse and inclusive. Do we have some more work to do? Yes. We have a lot of work to do. But at least we've started the conversation and are heading in the right direction," she concluded.
Outside the office, Elliott loves spending time in the water. "Anything — kayaking, water skiing or even relaxing by the water — is great." Having her husband, family and friends around, plus good food and maybe a little dancing, are some more of her favorite things.