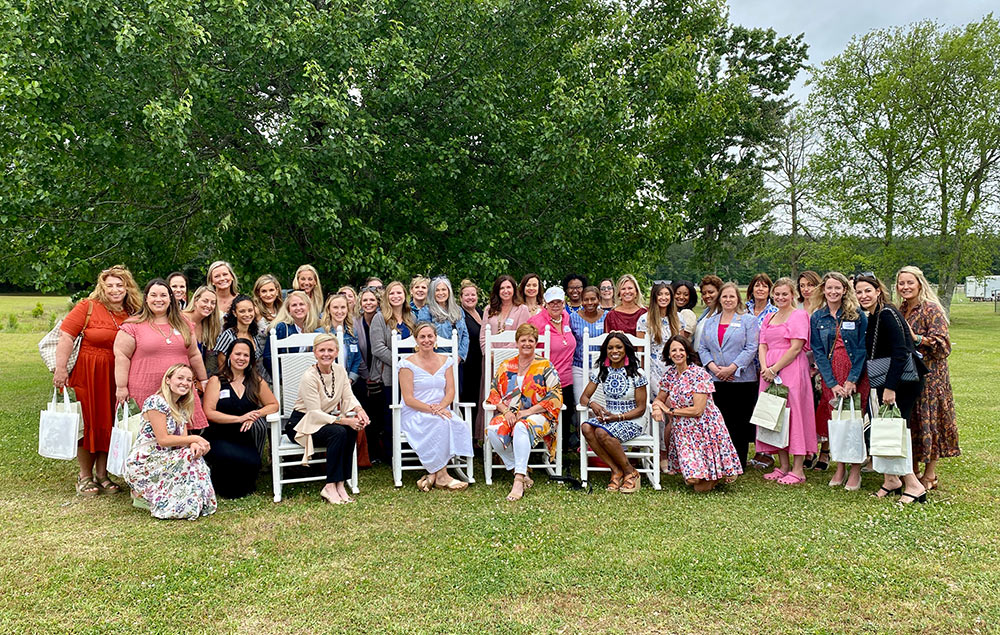 On an unseasonably crisp Thursday morning in May, professional women from all over the Charleston area hopped in their cars and drove north on 17. Dozens of ladies with busy schedules, long to-do lists and weighty decisions to make set aside this special time to network, learn and brunch at Salty Oak Farm.
The event promised delicious food catered by Callie's Hot Little Biscuit, a mimosa bar from Squeeze Cocktail and Beverage Catering and a panel of impressive local women: Terry Haas, Carolyn Murray and Kimberly Powell.
As I drove onto the property, a smile emerged that never left my face. We all got checked in, proudly wrote out our name tags and began shaking hands and making connections. With drinks in hand, we followed Farmer Alex on a tour of the farm. We learned about their regenerative approach to farming while we watched chickens, cows and 'party' goats play. The banter had begun, and true friendships were forming as we walked the grounds (and carefully watched our step).
Carolyn later commented something proving true as we mingled when she said, "Your true friendships are built outside of social media."
After the tour, we refilled our drinks, prepared our plates and settled in for conversation. The sounds of laughter from professionals from throughout the area echoed from beneath the scalloped tent, and I couldn't help but notice the juxtaposition with the sounds of birds chirping, cows mooing and chickens squawking. We leaned in and listened to stories and personal anecdotes from our three accomplished guest speakers. We heard stories about everything from pickleball to medical diagnoses to binocular-wearing, bird-watching mornings. We heard it all. We connected. We learned. We left encouraged, inspired and ready to take on the world (or at least the Lowcountry).
The overall message was that we are all Charleston women, and we are all in this together. We need to lift one another up, straighten each other's crowns and continue to put one foot in front of the other.
Thank you to everyone who carved out time to connect, and a special thank you to Salty Oak Farm for hosting us. We will see you again in the fall.
By Katie Finch