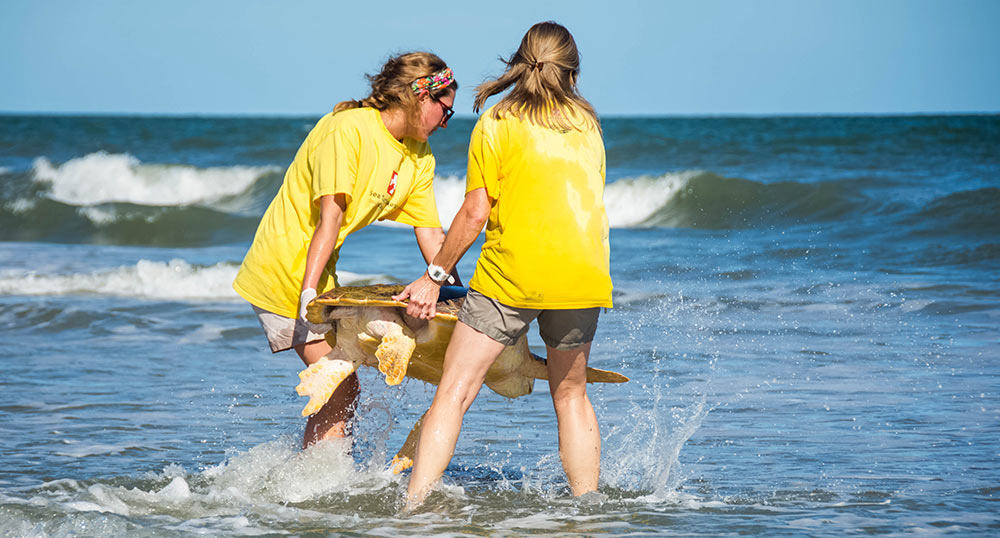 On any given day, you can find an entire team of dedicated women behind the lifesaving efforts of the sea turtle hospital at the South Carolina Aquarium. Run by a six-person team of biologists and veterinarians, five of whom are women, the Sea Turtle Care Center is funded through private donations and grants so they may continue their lifesaving work on behalf of these endangered animals. Established in 2003, the Sea Turtle Care Center, which is both a nonprofit and a local gem, has saved over 300 reptiles since inception.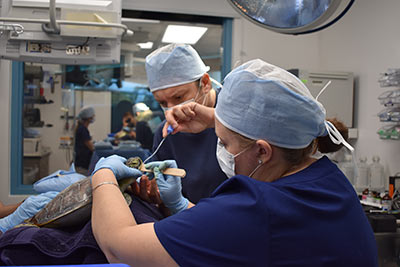 Women are a strong force behind the aquarium's entire operation, comprising 25% of its Board of Directors, including emeritae. Many serve on the Executive Committee as well, and two others chair the Education Committee and Conservation Committee – all crucial roles. The Strategic Leadership Team also boasts several women as participants.
A local highlight is when the biologists at the Care Center coordinate a release back to the ocean after a turtle patient has completed its medical care and is ready to be restored to nature — 310 releases to date. There can be an extensive – and expensive – rehabilitation process for some of these patients, with treatment lasting from two months to two years before a release back to the ocean. Thankfully, the Sea Turtle Care Center is a world leader in sea turtle rehabilitation and is often on the cutting edge of new treatments to help ailing turtles.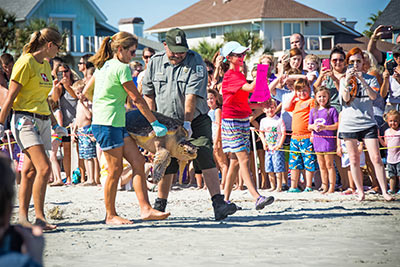 Whitney Daniel, a sea turtle biologist in the Care Center for over five years, serves as an integral team member as the veterinarian assistant. Her experience and knowledge are an asset to the aquarium's entire collection of animals, but especially pertaining to sea turtle rehabilitation. Her related expertise is invaluable to the Care Center team, and she understands, more than most, the importance of the work being done at the South Carolina Aquarium.
"There are so many ways to support the aquarium's work with sea turtles, which in turn, helps the marine environment they call home," remarked Daniel. "As a not-for-profit, community support is key to fulfilling our mission and ensuring the survival of the many species that share our natural world."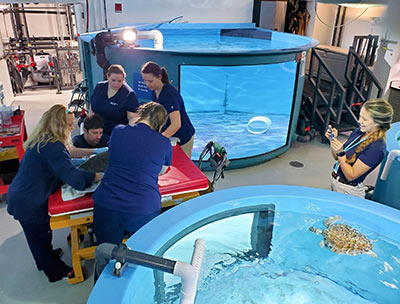 In 2019, the aquarium was awarded the National Medal for Museum and Library Service, which is the nation's highest honor issued to "museums and libraries that make significant and exceptional contributions to their communities." A large part of those contributions to the community are the education programs, which many locals might be familiar with thanks to the aquarium's recent online presence, aimed to keep children engaged during the pandemic.
"We have made changes to our programs so we can still give students the incredible experience of visiting the aquarium, whether it is virtual or in person," said Susan McLaughlin, distance learning interpreter. Making these programs virtual has allowed the aquarium to have a further reach with children from out of state, who are able to dial in and observe or even participate via video platform. The award-winning education team includes 13 women, which is 76% of that department's workforce. Among the many STEM-based programs are outreach, critter calls, virtual field trips, school programs and a grant-funded high school internship, targeting juniors who qualify for free or reduced lunch. The staff's love and knowledge of water, wildlife and wild places inspire young people to become protectors of our planet, conservationists of tomorrow and lifelong advocates for wildlife. While sea life inhabitants at the aquarium are beautiful and amazing, at the center of it all is education for our environmental future.
The current fundraising campaign, titled "Our World Without," is an effort to save the heart and soul of the aquarium in a COVID world. There are many other ways followers and fans can support the work and educational opportunities of the South Carolina Aquarium. To learn how to become a Sea Turtle Guardian or to provide much-needed support by purchasing a critter call or a virtual field trip, visit SCAquarium.org.