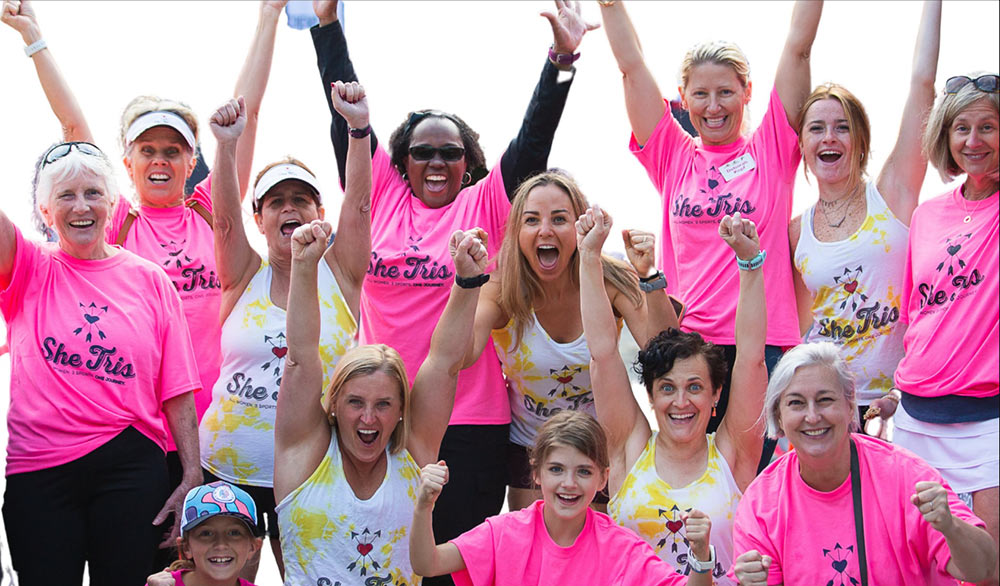 The energy was ablaze at The I'On Club on May 21. The Crews Subaru of Charleston She Tris Sprint Triathlon, which women of all ages participated in, is an event that is meant to change the face of triathlons by making them accessible to any woman who wants to "tri."
She Tris was founded by Angi Klick in 2015 to fill a void in beginner women's triathlon events in South Carolina. She has since built a community of female participants of all ages and fitness levels who train together to reach their goals and realize their athletic potential.
Klick completed many triathlons and, for years, managed a local triathlon store. Female customers routinely sought out her advice while training for races. Klick recognized an opportunity for events that focus on and cater to female participants. Moved by this realization, she approached race directors and committees on which she served to pitch the idea of women-only races.
"I don't even like to call it a race," said Klick. "I prefer to call it an event because race implies that you have to be fast and we want to take out all of the intimidation, which is what makes these events so different."
Klick recalled having competed in over fifteen races of varying distances, including an Ironman, by the time she became a mother. After giving birth, she knew that her body wasn't the same as it was before. She recognized that she didn't look or feel the same and accepted that the demands of motherhood presented training challenges. Still, Klick sorely missed the triathlons that had become a way of life for her. Inspired by her slightly competitive spirit, Klick got a group of about 10 friends together to train for a race in North Carolina. Simultaneously, she co-founded the Charleston Chapter of Tri It For Life, a nonprofit organization dedicated to "empowering women of all ages, sizes, backgrounds, and abilities to develop healthier lifestyles through triathlon training, mentorship and community." Tri It For Life is a 12-week mentoring program that prepares women for their first triathlon.
Klick put on She Tris' first official event in 2016, a month before her third daughter was due. She was confident that other women would embrace the sport of triathlon and participate in the low-pressure event. Yet, peers in the triathlon community weren't so sure. The production company Klick hired to organize the race warned her that the concept may not take off. Two months later, the She Tris race was sold out. There have been multiple She Tris events since — the I'On and Hamlin Plantation events in Mount Pleasant and the Carnes Crossroads event in Summerville. All of them now take place annually. Perhaps it was a change in mindset that fueled the enthusiasm.
"When people think of triathlons, they think of Ironman or Ultra Triathlons, which are three Ironman races in one day," Klick clarified.
She Tris' events are different. They feature the shortest recognized triathlon distances, each with different courses and distances, ranging from a 200 to 250-yard swim, an 8–9-mile bike and a 2 to 2.5-mile run. The courses are spectator friendly so that the women can connect with their families and supporters along the way. Most participants train for eight to 12 weeks to prepare for race day. They dedicate anywhere from five to eight hours a week working off of a training plan that is provided by She Tris organizers upon event registration.
"We try to eliminate all barriers," said Klick. "Anybody that hasn't completed a training program before or isn't connected with a group can follow our coach-designed program."
For Klick, changing the face of triathlons means creating a welcoming and supportive environment for women and girls who want to complete a triathlon, regardless of their level of experience. The events are open to special needs participants, pregnant women, girls as young as 4 years old and elderly women. In the effort to make the event more inclusive, there are no penalties for taking breaks or for walking. Participants may choose their preferred swim stroke, and bikes as well.
She Tris recently added relays, which allow teams of three to complete the course together, reducing the cost per participant and making participation more attainable. They also offer a "duathlon" option, which removes the swimming element and creates a run/bike/run course. She Tris also has a virtual option, in which participants from all over the world join in the event from their location. All participants, local and virtual, receive an event t-shirt, goodie bag and completion keepsake pendant necklace designed by a local jewelry artist.
As with most races, post-race events include award ceremonies, celebratory adult beverages, sponsor booths and revelry. While the festivities are a great way to end the day, it's the sense of accomplishment that has made She Tris' events what they are today. Encouraging women, building a supportive community and creating an inclusive environment for participants to "tri" alongside their mothers, daughters, neighbors and friends inspires women to put themselves first and create their own journey to becoming a triathlete.