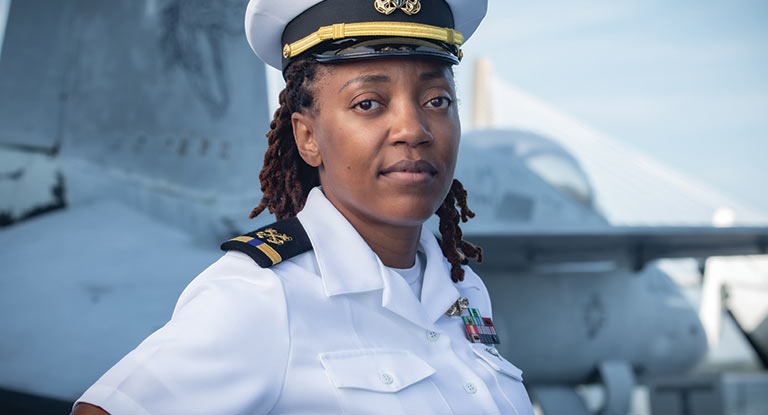 Summer Levert, Port Operations Officer in the United States Navy
Summer Levert's career in the military began in 1997 while she was in high school. She joined the Ohio Army National Guard and spent her senior weekends in training. Although she enrolled in college for a short time, eventually Levert had to prioritize her income over her education, so she dropped out to work two jobs instead.
"My job at a garden center started at eight o'clock in the morning, and I worked there until three o'clock in the afternoon. I then worked at a restaurant from about four o'clock in the evening until about one o'clock in the morning, and I did that six or seven days a week," said Levert. "But it's not what I wanted for my life."
After learning a few hard lessons about being an adult, going through an abusive relationship with a drug addict, becoming homeless and moving back in with her mother, Levert began working again, attempting to regain a normal life — but soon after moving out on her own again, she realized it was time for something new.
She made the decision to enlist in the Navy in 2000. Her twin sister, Dawn, had decided to enlist in the Navy rather than go straight to college, and as Levert watched her sister have the opportunity to travel and have new experiences, she decided to follow in those footsteps.
Levert soon realized she wanted to become a boatswain's mate. And with a three-feet-high stack of books, her departmental leading chief pushed her to rigorously study for her exam. "He kept pushing me; he kept giving me more knowledge; he kept giving me more training. But most importantly, he believed in me. He was my mentor. We are still good friends to this day
Boatswains were primarily male, and while there had been two female boatswains in the history of the Navy, becoming one still seemed like an impossible goal to Levert. However, after years of study and multiple sea tours, Levert was pulled into her superior's office and delivered exciting news: she was now a boatswain.
Shortly after her promotion, Levert learned some more startling news: she was the first Black woman to earn the rank of boatswain. "I said, 'no way, it's 2014 — surely there's been someone before me.'"
But there hadn't been. Levert was the first.
As a woman, Levert has seen the good and bad of the Navy throughout her career. "I didn't think this was possible for me because I didn't see anyone that looked like me in this uniform. The white male has always been the model sailor on every movie, every training video, every poster," she explained.
Since Levert is one of only a few high-ranking Black women in the Navy, many young Black women reach out to her for advice and mentorship, which she enjoys. After two tours serving as a boatswain, Levert was moved to shore duty — working on land here in Charleston — because of health issues. She is set to retire in July 2023.
"It took me a long time to make the decision to retire. I love the Navy, but ship life has taken a toll on me," she said. She added, "As a kid, I always felt like I had to prove myself to my parents. I stayed on sea duty for 10 straight years, trying to prove myself to the Navy, and I burned myself out. My mom told me, 'Summer, you've done your part.' I needed to hear that."
Currently, Levert is the Port Operations Officer at the Naval Weapons Station in Goose Creek. She has many responsibilities, including scheduling the ships that go to and from the base and running the emergency center during hurricanes and other weather alerts. She is also the Senior Watch Officer.
When Levert isn't working, she enjoys gardening in her backyard, playing with her dogs or riding her bicycle through the city. She is married and expecting her first child in June.