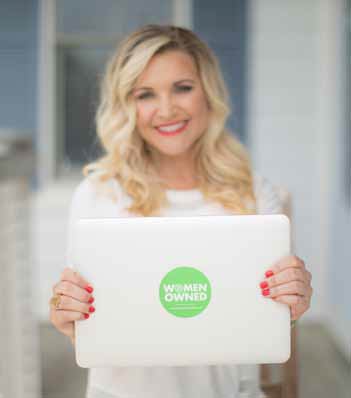 We hear the phrase "girl boss" constantly. The word combo often appears as a caption under the glow of an Instagram post, trends on Twitter and can even be heard escaping from the mouths of celebrities looking to give a shout-out to female go-getters. But, behind the overused hashtag are numerous stories of women striving, and at times struggling, to make their economic mark on an ever-changing business landscape. One Mount Pleasant resident is working to empower other female leaders to reach their goals, thrive and navigate the often rocky paths that appear when they decide to jump headfirst into self-employment. Melissa Barker, founder of Women Entrepreneurs of Charleston (WEofC), has crafted a space where synergy and sisterhood overlap.
"Charleston has an incredible ecosystem for entrepreneurs," said Barker, who since launching WEofC in 2017 has worked with more than 75 members. "I saw a unique opportunity to build a platform for women not typically seen on the local circuit, to share their expertise and to be a place for women to go when they want to develop new skills and gain more knowledge across all key areas of running a business."
Following a successful career in Atlanta, doing digital marketing and branding for household names such as Coca-Cola, Sears, The Weather Channel, FIFA World Cup and The Olympics, Barker made the move to start her own business. After the birth of her son, seeking coastal charm, she relocated to Charleston. Her desire to start her own digital marketing firm, Mel Bar Mar, was also fueled by the significant pay cut she would have to endure if she chose to take on a similar position in the Lowcountry.
"I learned most of what I know about running a business by doing it wrong," said Barker. "Through a combination of wins, losses, business books, webinars, Google searches, late nights and conversations with other business owners who were willing to mentor me, I eventually evolved from a woman who ran a marketing agency into a woman with a clear vision for her business."
Having experienced the highs and lows, midnight hours fueled by caffeine consumption and sheer will, Barker understands the daily obstacles so many face. WEofC has provided a place where women leaders can voice their concerns, problem solve and ultimately help each other network to get to the next career level. With monthly workshops, featured speakers and summits, this group provides both community and the tools needed to excel.
Despite her cheerful disposition and palpable positivity, Barker acknowledged the harsh reality that women-run businesses still struggle to obtain funding.
"There is a gender bias that has finally gained the attention it needs, and I support the women, like Sallie Krawcheck, who are actively working to change it," said Barker. "I encourage women to focus on what they can control, which is their own skills and knowledge."
From jewelers, chefs and photographers to app developers and event planners, WEofC members are extremely diverse, yet each is rooted in authenticity and a desire to help shift the world around her.
"I think we become unbalanced when we're unclear of, or go after the wrong version of, success," said Barker. "Success is different to each person. But it's easy to adopt someone else's if you're not clear on yours."
To learn more, log onto www.womenentrepreneurscharleston.com.
By Kalene McCort