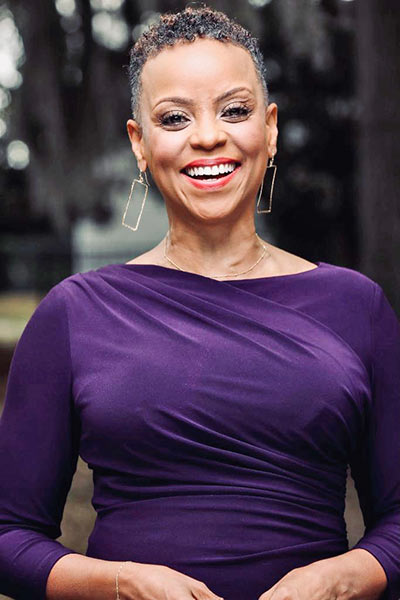 Tessa Spencer is a mother—a Gulf War veteran…a former professional cheerleader…a master numerologist…an ABC News Four anchor…a radio personality.
She doesn't like avocados or peanut butter and jelly, which she says sheepishly, knowing the country is against her here. She is generous, entertaining and truly kind. Markers of a life lived in a spotlight? Yes, but also of a journey guided by faith, determination, curiosity and perhaps a little serendipity.
Take the Army, for example. "It was something I did while I was in college," she said. "My friend and I wanted to do something exciting, so we joined the Army Reserve."
Following her graduation from Baptist College (now Charleston Southern), her unit was called to fill in for active-duty soldiers sent overseas during the Gulf War. Spencer went to Fort Leavenworth in Kansas and would have stayed, but the only job available following her tour involved flying in helicopters, to which she relayed, "I'm not a fan of flying."
So Spencer went on to launch her career in broadcast journalism in Charleston. When her career took her to Nashville as she neared her 30s, a new challenge presented itself: the Tennessee Titans cheerleading squad.
"I wanted to see if I could do it," she said. "I didn't really cheer in elementary school and not at all in high school. In college, my roommate made me try out with her. I made the varsity; she didn't. We weren't roommates for much longer."
Her tryout for the Titans squad was equally successful. She made the team and enjoyed the hobby while continuing to build her career.
Once in Charleston again, Spencer spent two more decades in broadcasting: television, radio and voiceover. It wasn't always easy, but she made it work.
"A cousin recently told me, 'I admire your strength'," she recalled. "It's funny when people notice you have a strength, but you don't know it yourself. I've been wired to survive. I've been wired to make it happen."
However, it's not always easy. Spencer dealt with deep depression. After the birth of her second son, she didn't think she could keep going, but that strength kicked in. She fought back. Time taught her how to manage her symptoms and recognize triggers.
"People don't talk about their struggles," she said. "Other people look at you from the outside and think you have it all together. But I'm also human. I've experienced low periods in my life. I don't always feel strong, but if someone sees that and it helps them in some way, then amen. My strength comes from helping other people."
After 30 years in broadcasting, many women might happily rest on their laurels. Not Spencer. Her next venture—a podcast she can create, define and ultimately own—aims to tell stories in a new way.
"What makes me happy is hearing other people's stories, especially their spirituality," she said. "I love seeing how God has worked in your life and connected all the dots. The podcast is called Testimonies. I believe God wants people's stories to be told and heard, and that's my true purpose.".