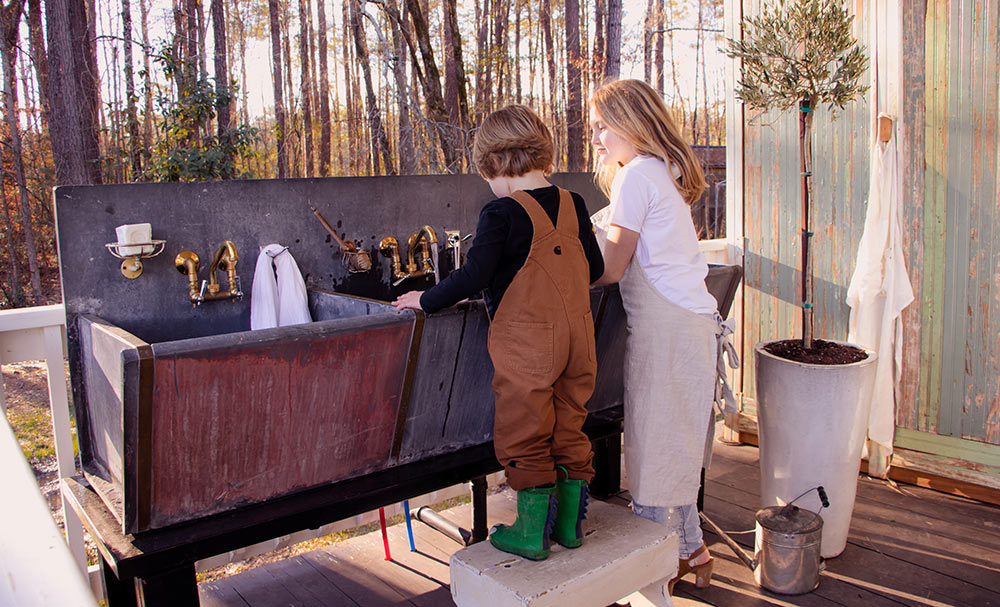 Amber Bennett, whose design career began when she renovated The Little House on her family's estate at 20 years old, insists that her knack for the decorative arts and architecture is in her genes. The daughter of a fashionista and granddaughter of a bargain hunter, she's not wrong. Her grandmother, Vivian, was known to drive around Charleston in her Bonneville to find discards that she'd dress up in velvet.
Today, Bennett and her mother-in-law, Cheryl, call themselves The Gathered Hens and have made garage sales and bargain hunts a veritable art form. Their successful treasure hunts have outfitted both their homes and then some. Bennett describes her "collected" aesthetic as French and Scandinavian with Colonial and Art Deco influences, while her MIL enthusiastically details her living room, clad in estate and garage sale finds, as wholly shabby chic.
Some might say that these ladies have been lucky to find many of their one-of-a-kind furnishings and trims, but Bennett insists that luck has nothing to do with it. They are always on the hunt and follow a strict protocol when hitting up garage sales, whether local or otherwise. They stake out locations the night prior, deny themselves food and water on garage sale day and are willing to travel. Whether they are driving a U-Haul or asking Bennett's husband, Micah, to build a double-decker structure on his trailer to transport blown glass doors from almost three hours away, these Gathered Hens know what they like and how to get it.
The Gathered Hens have five rules they follow when garage sale-ing, the most important of which is to never garage sale at a house that you can afford. The goal is to find a "jackpot" house, where the upscale sale items are being replaced with brand-new luxury pieces. If you can afford the home, they said, chances are that family isn't selling anything of extraordinary value to you.
Community yard sales are on their annual schedule. They go to the bank for cash in advance, drive around the evening prior in the hopes that a homeowner will give them a preview, and bring a flashlight for early morning cruising.
Amber and Micah Bennett share their stunning home in Ridgeville with their children, Claira Belle, 11, and Beau Bleu, 4. Every corner of the house is clad in beauty, history and salvaged touches that The Gathered Hens have acquired for next to nothing, considering the exceptional value they possess.
Bennett's parents built the home in 1996. It was a traditional Lowcountry-style home, but when the couple decided to make it their own, they wanted it to feel like it had been in the family for generations. They renovated it down to the trim with mostly salvaged materials. Old doors, reclaimed window sidelights and shutters, historic crown molding and antique finials on the staircase give the home the exquisite, collected look they had envisioned.
From the custom cabinet made with cabinet doors that were salvaged from a hotel in Philadelphia to the laundry room floor made from chimney bricks that the Bennetts recovered from a demolition in Charleston, their home tells stories from different places and times. Their inspired fireplace mantel was created from stunning French cast iron that was only $100. While it had to be cut down to fit, minor adjustments are part of the fun for these home improvement masters.
The spirit of tradition, laying down roots and love of sustainability fuel Amber Bennett's passion for garage sale-ing. She sees potential where others see debris but can also recognize a 100-year old Waterford Crystal chandelier when she sees one. She puts time and effort into giving her garage sale gems new life, combining her vision with her husband's knack for execution.
Throughout their adventures, The Gathered Hens have made many friends. Their ability to develop relationships with antiques vendors, shop owners, interior designers and neighbors plays a large part in their success. And homemade cakes and perfected methods of friendly haggling certainly help.
There's no doubt The Gathered Hens share their gift of garage sale-ing, reclaiming and creating in various ways. They offer design services for auctions, conferences and parties and recently started a YouTube channel — The Gathered Hens — a handle they also use on Instagram. Through social media, the unlikely duo shares their special bond and the humor of their adventures, while also giving followers the tools to find collected treasures wherever they call home.
By Isabel Alvarez Arata