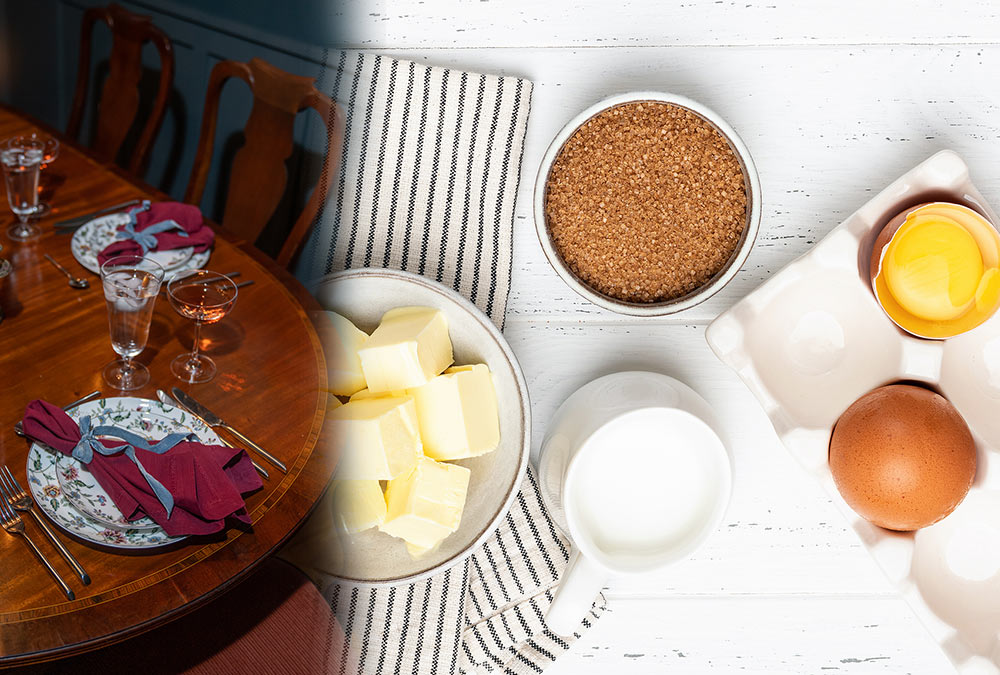 Maybe you don't feel comfortable going out to a restaurant yet. Maybe you don't want to splurge on a night out. Or maybe Valentine's Day just isn't your thing. Regardless of your reason for staying in, a Valentine's Day celebration at home can be just as romantic, fun and delicious as a big night out. All you need is a little advance planning and a lot of love.
If you order a mouth-watering steak from a fancy restaurant and eat it at your kitchen table on a paper plate with all of the lights on, do you have the same experience as you would enjoying it in a wood-paneled restaurant with moody lighting and soft background music? The answer is a resounding "no." That's why creating the right ambience is the key to making an at-home celebration feel special. So how do you make your home feel more like a restaurant?
Bust out the china.
First, if you have a formal dining room, use it. There's nothing romantic about a gourmet dinner at your kitchen island. Bust out your fancy china, even if it's harder to clean. This is a special night, so get out that cut crystal and silver and make use of those things you're storing away for dinner parties. If your tableware collection is lacking, order a set of plates, flatware, glassware and napkins from a rental company like Snyder Event Rentals, which offers lots of fun designs that will add to the ambience.
Turn down the brights.
Next, turn your focus to setting the mood with lighting. You want your space to be dark enough to feel intimate and inviting, but not so dark you can't see your food. If you have a dimmer switch, turn those lights down to the point that you could still comfortably read this magazine. If not, see what it feels like to turn the lights off in your dining space, leaving on lights in adjacent rooms for ambient light. Then cram every single candle that you have in your house into your dining space. Put tall tapers on the buffet, votives on the table and hurricanes on the floor. Nothing says romance like candlelight, and in this case, more is more. There are only two rules: one, don't place tall candles in between you and your honey — nothing should block your view — and two, stay away from scented candles, which mix with the aromas of your food and make things taste like soap. We can all agree that's not what you're going for.
Get centered.
If you have the energy and determination to decorate beyond these basics, fantastic! However, nobody's going to fault you for stopping there. When you sit down at your favorite restaurant, chances are they don't have a huge floral arrangement on the table or themed napkins. Good lighting, a nice place setting and fantastic food are all you really need to re-create a fine dining experience at home.
That being said, taking the time to pick up some beautiful roses a few days prior (an essential step so that they have time to open) and adding color to your table with fancy linens will make your soiree for two feel that much more special. Just stick to a simple color scheme and avoid anything that screams "It's Valentine's Day!" to keep your space looking sophisticated, not kitschy.
Send the kids to the sitter.
If you have kids, this is a fantastic time to cash in that babysitting voucher from grandma and grandpa. They'll have fun spoiling your little ones with a box of chocolates while you have an opportunity to get romantic without someone complaining about their food touching.
Enjoy eating.
Now that you've set the mood, it's time to focus on the food. The least sexy thing you can do during your Valentine's dinner is stand in front of the stove the entire time. Choose dishes that can be at least partially prepared in advance, served cold or will bake in the oven while you're enjoying a different course.
Here are a few of my favorite recipes for a romantic dinner at home. Many of the elements can be prepared the day before, and you'll have plenty of yummy leftovers to snack on the next day. Cooked with love, they're sure to knock your significant other off their feet, while being light enough to leave room for a little something sweet after dinner.
Appetizer
Roasted Butternut Squash Tartines
Yield: 2 tartines, plus extra squash for leftovers.
Ingredients
½ red onion
2 tablespoons extra virgin olive oil
1 butternut squash, peeled and chopped into a ½-inch cubes
4 ounces soft goat cheese
1 cup baby arugula
1 teaspoon apple cider vinegar
2 slices of good quality bread, such as French boule
¼ cup hazelnuts, toasted and chopped
Directions
Preheat the oven to 425º.
Chop butternut squash into ½-in cubes. Slice onion through the core into eighths without peeling. Toss in olive oil and season with salt and pepper, then place on a large baking sheet.
Roast squash and onion for 40-50 minutes on the lowest rack in your oven, tossing halfway through until squash is golden brown in spots and onion is soft and caramelized.
Using a food processor, pulse goat cheese with 4-5 sections of the red onion, skin and core removed.
In a small bowl, toss a few handfuls of arugula with the apple cider vinegar and a pinch of salt.
Toast the bread slices and allow to cool completely prior to assembly.
Spread a thick layer of goat cheese on each slice of bread, followed by a handful of dressed arugula, a large spoonful of butternut squash mixture and a sprinkling of chopped hazelnuts. Cut bread on the bias or into 2-inch strips for a smaller portion.
Main Course
Seared Scallops with Pea Puree and Pancetta
Yield: 2 servings
Ingredients
8-10 large scallops
1 cup frozen peas
4 ounces pancetta, cubed
1 medium shallot, sliced into thin rings
½ lemon plus zest
1 tablespoon olive oil
1 tablespoon unsalted butter
Mint leaves
Pinch of Sugar
Directions
For the Pea Puree
Bring water to a boil in a small pot. Season with salt and cook peas for about 4 minutes until bright green, and drain.
In a food processor, puree the juice and zest of ½ lemon with peas, 1 tablespoon olive oil and 1 tablespoon unsalted butter. Add water 1 tablespoon at a time until puree reaches desired consistency. Salt and pepper to taste. Tear 4-5 mint leaves and puree until combined but pieces of mint are still visible.
For the Scallops
Place scallops on a paper towel-lined plate and pat very dry. Season both sides with salt and pepper and a small amount of sugar to encourage browning.
Cook pancetta in a large skillet over medium-high heat, stirring occasionally until fat begins to render. Add sliced shallot and cook until softened and lightly browned, stirring often. Transfer the mixture to a bowl using a slotted spoon, and reserve the fat in the skillet.
Heat skillet with fat over high heat until barely smoking. Working in batches, sear scallops until a golden brown crust has formed and scallop releases from the skillet, about 3 minutes per side. Add more oil as needed.
Top pea purée with scallops and bacon mixture. Garnish with mint leaves.
Dessert
Chocolate Mousse with Hazelnut Praline Topping
Yield: 6 to 8 servings
Ingredients
2/3 cup whole milk
1 ¼ cup dark chocolate — high-end, if possible
1 tablespoon brewed espresso or coffee
1 egg yolk
5 egg whites
¾ cup sugar, divided
¼ cup hazelnuts
Directions
For the Mousse
Melt the chocolate in the microwave in 30-second increments, stirring between.
Heat the milk in a small saucepan until simmering, then pour over the chocolate. Add espresso and stir until smooth. Set the mixture aside to cool.
Once room temperature, whisk the egg yolk into the chocolate.
Using a mixer, beat the egg whites with a pinch of salt until soft peaks form. At this point, slowly add ¼ cup sugar until you achieve firm peaks.
Fold ⅓ of the egg whites into the cream. Once incorporated, fold in the remaining egg whites. Do not over-mix — a few white spots are ok.
Refrigerate in the bowl for at least 4 hours, or overnight.
Portion mousse into serving dishes and top with hazelnut praline or toasted hazelnuts.
For Hazelnut Praline
Line a baking sheet with parchment paper.
Add ½ cup sugar to a dry saucepan and cook over medium heat. Do not stir the mixture; just swirl the pan until the melted sugar has reached a golden caramel color.
Add hazelnuts and stir until coated.
Pour the mixture onto the baking sheet and cool completely. Break praline into pieces and set atop mousse.