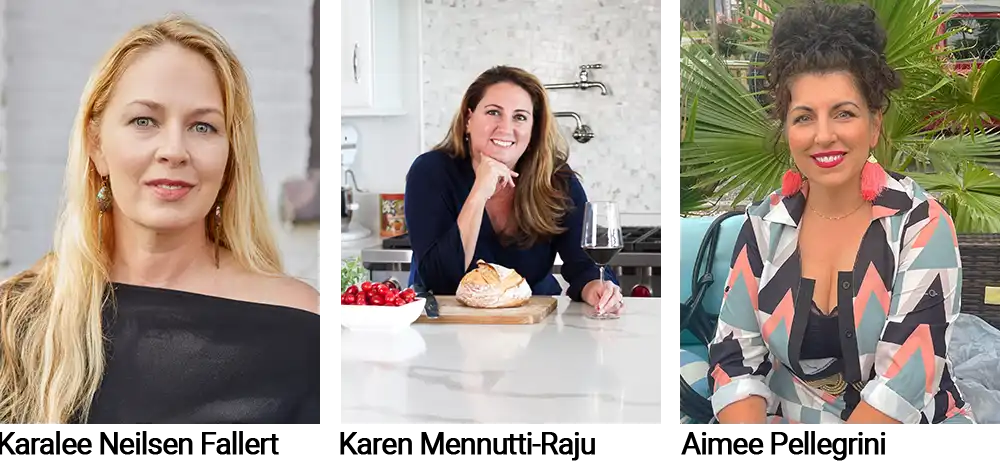 What does a culinary school drop-out, a former banking industry manager and a one-time event floral company owner all have in common? They all currently run some of the area's most popular restaurants and they represent a growing number of female restaurateurs taking the local food scene by storm.
While Charleston is frequently associated with beautiful beaches, historic landmarks and wonderful weather, the diverse food scene has also made the "Holy City" a top dining destination. The National Restaurant Association estimates that nearly 50% of restaurant groups are now wholly or co-owned by women, so many of the cream-of-the-crop that encompass Charleston's fare have women at the helm. If this is your dream, three of the finest have shared their secrets of success with Charleston Women. Take a look behind the curtain with us.
Karalee Nielsen Fallert (KNF) is the CEO of All Good Industries, whose group includes Taco Boy restaurants, Park & Grove, The Royal American and The Bounty Bar. Fallert opened her first restaurant at 19 after dropping out of culinary school and hasn't looked back.
Karen Mennuti-Raju (KMR) is the co-founder of BENE Hospitality Group which includes SAVI Cucina + Wine Bar and Sommba Cocina & Cellar. After years in corporate banking, Mennuti-Raju decided to return to her hospitality roots and pay homage to her Italian heritage.
Aimee Pellegrini (AP) is the owner of La Rustica Restaurant. Her experience with preparing custom floral installations prepared her for the rigor and demands of running a kitchen where products are fresh, presentation is key and customer service is everything.
Is a culinary background a must?
KMR: "Experience is always helpful, but there's a place in the kitchen for someone who has a great attitude, is interested in the culinary works and is willing to learn."
KNF: "Not absolutely, but it's definitely going to help deepen one's hospitality I.Q."
AP: "To open a restaurant? Almost always! Working in restaurants is good for everyone. It teaches patience, integrity, compassion and teamwork. It can show you how much grit you have and it can also teach you your boundaries."
What challenges have you faced that a potential owner might expect?
KMR: "COVID-19 hitting a few short months after opening and hitting our stride, labor shortages, increased cost of food and an overall recession — those have been our biggest headwinds."
KNF: "Dishonest business partners, hurricanes, armed gunmen, supply-chain issues, labor revolutions, cash flow crunches, ever-changing marketplaces and my own ego and stubbornness — and a pandemic."
AP: "You have to get creative and fearless about reaching your customer and you have to maintain your standards even if your path has led you to a different place than you expected. Adaptation is the key to survival."
What advice would you give a woman starting a restaurant?
KMR: "Ensure you have a solid business plan. Don't just open a restaurant because you love to cook — you (or your partners and advisors) must have a good business sense."
KNF: "You always need more money to start a business than you think. Market like crazy. Additionally, I believe that team building and talent drive the success of any business, so studying who and where your team will be is essential."
AP: "Once they jump in, the workload will take over their lives for the first two-plus years. Find good people and empower them; never settle for the 'right-now' person. Have a thorough understanding of kitchen operations, products, inventory flow and menu planning. If your lead sauté breaks his leg Thursday, you better be ready to jump in and take his place on Friday night."
Despite the risks, long hours and sometimes grueling effort, Pellegrini, Mennuti-Raju and Nielsen Fallert all love what they do and have no regrets.
"It's a fast-paced, creative, ever-challenging, immediate-gratification producing roller coaster," said Nielsen Fallert.
Per Mennuti-Raju, "The rewards outweigh the drawbacks when your guests walk away happy and continue to come back to see you time and time again."
Pellegrini added, "Making people happy makes me happy. It's wonderful." For her, the hard work always pays off because owning and running a restaurant is her dream career.
For all three ladies a true passion was followed by the willingness to take the effort to live that passion. They study the business, the know food, they know numbers and they are ready to hit curve balls. They don't just dream; they do. Perhaps that is the secret ingredient.
By Sherry Whiting