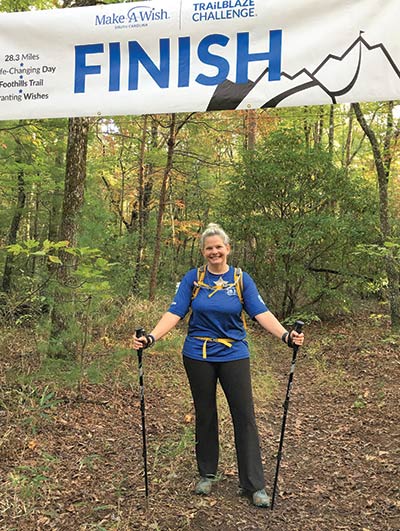 When 5-year-old Amelia was diagnosed with retinoblastoma, a rare form of cancer that rapidly develops from the immature cells of a retina, life became a series of waiting rooms, cold doctors' offices and scary medical procedures — not the way an active kindergartner wants to spend her days. She longed to play with her friends, ride her bike and most of all, go to Walt Disney World® Resort.
Make-A-Wish® South Carolina made Amelia's wish to go to Disney World come true. Her entire family spent days riding rides and laughing together. Amelia smiled while meeting characters she'd only seen in movies. Her mother said, "Amelia kept repeating, 'This is so pretty, this is so pretty.'" Her family had the time of their lives and felt that the trip made them all stronger.
In 2018, Make-A-Wish South Carolina granted 207 wishes across the state and 39 in the Lowcountry. To qualify for a wish, a child must have a critical illness and be between the ages of 2.5 and 18.
Hundreds of volunteers and donors in the Charleston area help grant wishes for brave South Carolina kids so they can have renewed energy and strength. They help turn anxiety into hope and fear into confidence and are often the turning point in a child's treatment.
Allison Macfie, a Mount Pleasant Make-A-Wish volunteer and community outreach director at Franke at Seaside, initially became involved with the organization last October when a coworker told her about the South Carolina Trailblaze Challenge®. The 28.3-mile hike was on the Foothills Trail in the Upstate. Macfie raised $2,500 for the Make-A-Wish kids.
She wanted to stay involved, so she joined the Running Wild for Wishes team for the 2019 Cooper River Bridge Run. The group raised over $10,000 in April.
"It is such a fun group of people working together to make wishes come true," Macfie said. "It has educated me on how much we do for residents of South Carolina and the children who really deserve a wish to come true. I have met families of wish kids and wish kids themselves. Their message is so powerful on how this one wish gives them the strength to carry on in their fight. They talk about seeing their child smile and laugh — things they have not seen or heard in a long time."
The Running Wild for Wishes program consists of volunteer runners organized by Make-A-Wish South Carolina. There are no official meet ups; however, runners often participate in "virtual" training sessions through an online running application. They are also provided with a training calendar and weekly emails with training tips and inspirational wish stories.
Running Wild for Wishes teams are currently preparing for the Grand Canyon and Glacier Half Marathons in June and the Smokies Half Marathon in September. Another team will do the 2020 Cooper River Bridge Run next April. Runners can also choose their own event.
For more information on how you can help make a child's wish come true, visit www.runningwildforwishes.org or www.sc.wish.org.
By Tonya McGue