Between managing households, raising children, navigating demanding careers and juggling social commitments, most women are at capacity. Meanwhile, America's obesity epidemic, especially among women, is expected to get worse. Mental health struggles are on the rise too. Women need time for self-care. Three Charleston wellness groups are addressing the many challenges women face by offering flexibility, support and accountability. By motivating women to make themselves a priority, even if for a short period each day, they are improving the lives of Charleston women one workout at a time.
SAY "HI" TO HYLO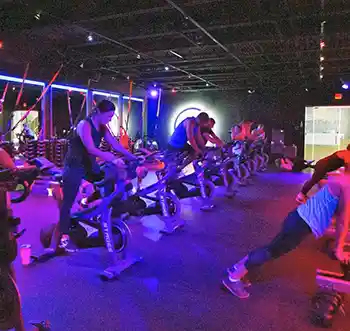 HYLO strives to help members find balance in their fitness journeys. With locations in Mount Pleasant and West Ashley, HYLO meets the needs of busy women by offering a variety of classes at a variety of times throughout the day, seven days a week. This allows HYLO to cater to professionals, parents, athletes, beginners and everyone in between.
HYLO is known for its dynamic fitness classes. HY is high-intensity interval training classes that challenge participants to push their bodies to new heights in endurance and resistance. On the opposite end, LO focuses on low-intensity with classes based on yoga teachings and boost health benefits with the use of heat and infrared lighting. This aims to create balance of mind, body and intensity.
"In HY, you get the benefit of physique-style training," explained Shannon Summers, Pulse class instructor and head of LO for HYLO's West Ashley location. "One day the class may focus on the lower body and the next day may focus on the upper body. The schedule rotates so members have the added benefit of choosing the days and workouts that are best for them," she added.
In addition to their classes, HYLO has "open gym" in their West Ashley location, a boutique fitness center with state-of-the-art equipment. There, members can target, tone and condition on their own time and pace.
By creating an environment of inclusion and acceptance, HYLO has captured the loyalty of Charleston women looking to make wellness a priority.
PURE BARRE, PURE BLISS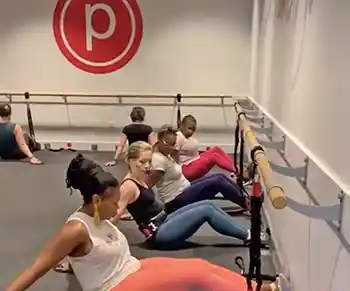 Emily Moody, owner of Pure Barre in Summerville, encourages students to come as they are and expect to leave with more. She recognizes that busy professionals and mothers don't always feel motivated to prioritize themselves. "No matter what — not feeling it, tired, pregnant, you name it, students never regret showing up."
"It's not easy to make a new habit," explained Moody, "but once people get to know our Pure Barre community and family — comprised of women, couples, college students and retirees — they come back for more. I am super proud of our diverse studio. Welcoming all ages, races, body types and fitness levels, I feel like we've created a space that makes everyone feel safe, comfortable and included."
Pure Barre classes are instructor-led. They offer stress relief and mental benefits in low-impact, high-intensity formats that are safe on the joints. "Influenced by ballet, pilates, yoga and resistance-based training, the effectiveness of the workout is a given," added Moody. "What keeps our members coming back is the camaraderie and community, friendships and support."
With a robust class schedule starting at 5:15 a.m. and culminating at 7:45 p.m. on weekdays, Pure Barre is dedicated to meeting their students where they are. In addition, Pure Barre also offers weekend morning classes and Sunday afternoon classes. As if that weren't enough, Pure Barre's classes are live streamed daily, with access included in membership. Joining pure barre is joining a boutique culture for the perfect "me time, she time" for solitude or support. It can truly be whatever you make it.
E2M, THE MODERN WORKOUT FOR THE MODERN MOM, MOGUL AND MORE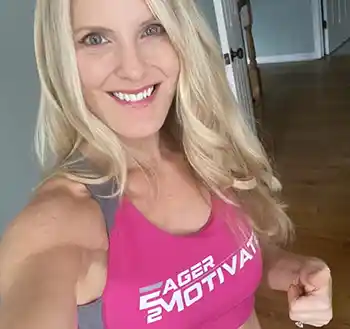 E2M, which stands for "eager to motivate", is an eight-week Facebook-based fitness and wellness program. It's designed to help adults develop sustainable healthy lifestyles in cycles. Portable, accessible and inspirational, E2M is changing the way working women achieve wellness.
Jessica Jones joined E2M three years ago after observing a friend's impressive results. "I have way more energy. I am eating way more food than I've ever eaten, but not gaining weight. I am more toned, and my skin looks better. My metabolism has balanced out due to eating clean and excluding processed foods and drinks. Mentally, I'm more focused due to eating the right amounts of food and foods that feed my brain."
Mandy Engstrom started the E2M program soon after having her baby in 2019. When she joined, E2M had fewer than 1,000 members in its Facebook group. Today, membership nears 180,000 participants. Engstrom has seen the community grow and change lives, including her own. "I was seeing results as soon as one month after starting the program."
From intermittent fasting, carb cycling, chef-designed whole food meal plans and support that includes regular Facebook Live pep talks from its founder, Jeff Witherspoon, E2M has many fans. The program can be modified to meet individual participants' needs, restarts every eight weeks at no additional charge and is a great way to lose or maintain weight.
"E2M's global community includes participants from all over the world," boasted Engstrom. From Charleston to Dubai, E2M's participants get continuous support from actively dedicated coaches and experts including fitness instructors, a postpartum exercise specialist, a doctor of physical therapy, a mental fitness coach and a Board Certified Lactation Consultant for breastfeeding moms.
Workouts and meal plans change weekly, but what makes the program truly special is the community of like-minded people looking to make a positive change in their lives, no matter where they are. At only $40 a week for eight weeks and with live online workouts ranging from 35-65 minutes in length, it's no surprise that E2M has grown as quickly as it has.
As women, the balancing act of caring for others and ourselves can be daunting. Thanks to communities like HYLO, Pure Barre Summerville and E2M, our desire for wellness, fitness, and self-care doesn't have to be a pipe dream.
By Isabel Alvarez Arata