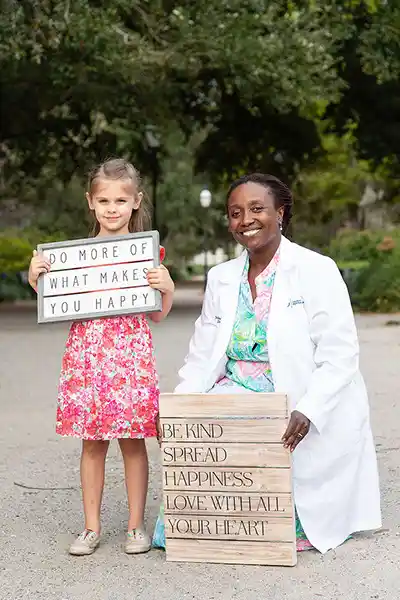 When you take your child to Knightsville Pediatric Dentistry, you will be introduced to the dentist by her first name, Dr. June. The warm, smiling dentist says this is to ensure the relationship starts out open and friendly and begins a dental journey that every child will be happy to continue. Often called "Dr. June's house" by her patients, parents find their children excited to run in the doors, down the hall and to the large toy chest in Dr. June's office.
Born in Mambasa, Africa, Dr. June was first inspired to help others after watching her father, a public health professor, assist others through the AIDS crisis. That passion for helping others, paired with her love for children cultivated during her time as a nanny, grew to where she is now. While she runs a thriving, popular practice, Dr. June still makes sure to set aside enough time for every patient she sees. She wants to ensure every patient feels like they're listened to, like they're being heard. She even likes to watch them pick out their toy at the end of a visit.
After finishing her pediatric dental residency in Augusta, GA, Dr. June recounts coming to visit Charleston, seeing a dolphin jump out of the water on a sunny January day and knowing this is exactly where she was meant to be. Her patients and their families feel the exact same way.
For more information, please visit KnightsvilleKids.com, or call 843-771-2003.
By Cari Lawson