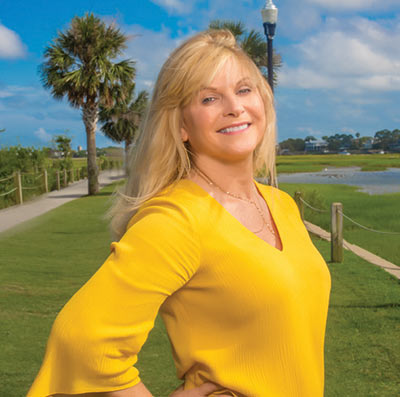 Skin care in the U.S. often focuses on quick fixes, "miracle" products or invasive procedures. In Europe, the focus is more on lasting care, daily routines and quality, effective products. To introduce these ideas stateside, Pamela Baudrand and her husband, Jean, opened the Parisian GUINOT Beauty Center in 2018, bringing France's largest salon chain to Mount Pleasant.
"While some GUINOT products and treatments have been sold in thirdparty salons, we opened the U.S.'s first fully branded GUINOT to offer the full lines of treatments and products," Baudrand explained. "As someone who uses the products, my skin looks and feels fantastic! GUINOT specializes in anti-aging facials, anti-cellulite slimming body treatments and European waxing."
In addition to serving as GUINOT's business owner, Baudrand is a wife, a mother of six with her blended family and administrator for the business.
"I really enjoy putting a smile on our guests," she said.
Located in the Oakland Market, GUINOT delivers sustainable results, visible from the first session. Best of all, prices are moderate.
"GUINOT is a mix between a spa and medical facility," said Baudrand. "It is all about proper skin care methods and products, delivered in a relaxing, pleasurable environment."
By Teri Errico Griffis