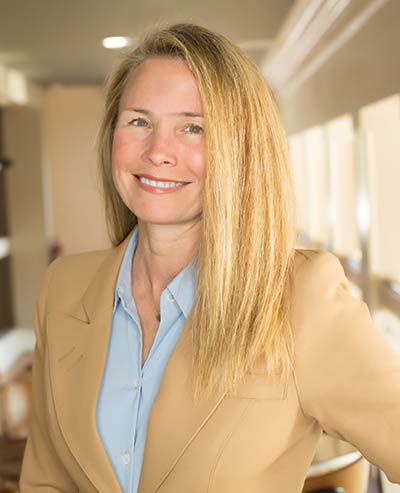 W hether you're a first-time home buyer, a repeat home buyer or an investor, chances are that Ariel Trouche, a licensed Realtor® with Carolina One Real Estate specializing in residential and investment properties, can help you find exactly what you're looking for in historic Charleston and the surrounding communities. Trouche has been a Charleston County resident for more than 30 years, living alternately in James Island, downtown Charleston, Sullivan's Island and Mount Pleasant, where she currently resides. She has lived here as a student, a single woman and as a married mother of three children.
"I know a lot of different neighborhoods in a wide range of places," noted Trouche.
Born in New York and raised near Athens, Georgia, Trouche attended the College of Charleston, where she earned her bachelor's degree in business administration. She met her husband, Tom, here — a seventh-generation native Charlestonian who is president of ServisFirst Bank. She and Tom have three sons.
Trouche, a multimillion-dollar real estate producer who consistently ranks among the top-10 percent of agents in the Charleston market, credits this success to her familiarity with a variety of areas and what each offers in terms of schools, restaurants, shopping and attractions. She also touts her extensive family connections. Trouche has five brothers and sisters-in- law and 14 nieces and nephews of varying ages and professions residing in the greater Charleston area.
"I know a lot of different areas for different reasons. … I love helping my clients find the right property. … I believe a lot of my success comes from being able to match my buyers with the right homes," explained Trouche. It also doesn't hurt that Trouche has a background in business and more than 25 years' experience in marketing.
Trouche's professional insights are so respected, she was even featured as an expert source in a December 2017 Post and Courier article titled "Real Money — Now Is the Time to Invest in Charleston Property." She was also interviewed for a February 2018 Charleston Regional Business Journal article on the state of the housing market, "Real Estate Agents Say Low Inventory Keeps Prices Up."
When not selling real estate or investment properties, Trouche's hobbies include walking the Ravenel Bridge, yoga, traveling, boating and relaxing on the beach. Trouche is a member of Mount Pleasant Presbyterian Church. She also avidly supports Charleston's arts and culture scene as a member of the Gibbes Museum of Art and is a supporter of the Southeastern Wildlife Exposition and the Charleston Wine + Food Festival.
By Colin McCandless
Read More