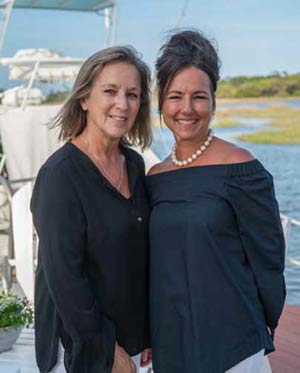 With the Charleston area being one of the fastest growing places in the country, Cathy Hunnicutt and GeorgieAnn Hoerner know that finding the right Realtor is key. Members of the Ed Hunnicutt Team, they know that every buying experience must be customized for the individual.
"Putting the clients together with the right fit is so important. And that's what we're really good at. It's not just about buying a house anymore. It's really about 'What's your lifestyle?' That's how I need to fit you into where you want to be," said Hunnicutt.
The Ed Hunnicutt Team has been in business for 26 years and has helped thousands of residents find new homes.
"We have continuously been one of the top-ranked, top-producing teams in the area year after year. We are devoted full-time, full-service, seasoned agents that specialize in our own areas of expertise as well as align ourselves with other leading experts and service providers in the field to streamline the real estate experience for our clients," Hoerner said.
Hunnicutt, a former pediatric nurse, said she brings a bit of her nursing past into each client experience.
"I love the word 'nurturing' when you talk about nurses. I really listen to what my clients need, and I really try to nurture that so it puts them in the right place," she said.
And throughout each process, at the end, Hoerner said the most rewarding part is knowing she made a difference.
"Assisting my clients through one of their largest investments and achieving their goal of home ownership is extremely rewarding. Knowing that the level of industry expertise and service we provide makes a difference in them obtaining a place they will call home and make lasting memories in is very gratifying," she said.
By Mike Gibbons
Read More:
Cathy Hunnicutt of the Hunnicutt Real Estate Team at Carolina One Real Estate