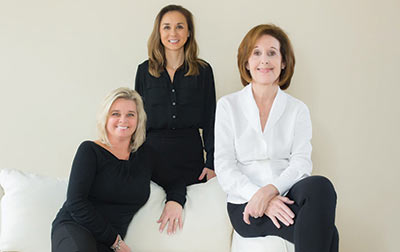 Chari Karinshak, Yvette Grist and Franne Schwarb are three women who fell in love with Charleston and its community. Together, they embody the idea of Southern hospitality. Chari Karinshak began her profession in real estate in 2007 after operating a small business and pursuing a successful career in sales. Although she is a Georgia native, Karinshak landed in South Carolina during her time at the University of South Carolina. She moved to Charleston shortly before getting married, quickly falling in love with the area. Now, as she raises a family in the Lowcountry, she says she could not imagine a better place to call home. Her determined nature is apparent in the workplace as she advocates for her clients and ensures that she earns their trust throughout the journey.
Born and raised in Charleston, Yvette Grist brings her home-grown Southern demeanor with her into every interaction. She knows the ins and outs of the area and can use that knowledge to the benefit her clients. Grist brings extensive new-home and construction experience and has been thriving in real estate since 2007.
Franne Schwarb has lived in Charleston since 1996 when her late husband took a job in the area. She has experience as a site agent at Dunes West and has been helping people move for more than 30 years. She explained that today she is "inspired by the wonderful women in real estate and beyond, who show us all what truly matters and how to be true to ourselves and successful at the same time."
What sets this dream team apart is their dedication to the community itself. They are three women who see how special Charleston families are and want to help them in any way they can.
They said, "Our families have lived in Mount Pleasant forever. We are parents of children who have graduated from Charleston county schools, and we've welcomed grandchildren to our beaches. This is our home. You are our neighbors."
As true Southern women, the Charleston Fine Homes team prioritizes treating their clients well and working hard to get the job done.
The team added, "We treat our clients like we would want to be treated and never forget our goal: a smooth transaction, from contract to closing. We laughingly say we work 25 hours a day, seven days a week." This hard work has clearly paid off, as the group has high accolades from Charleston Trident Association of Realtors, as Realtors of Distinction and as a top small team.
When it comes to the Charleston Fine Homes team, clients are able to be served by three highly qualified professionals with more than 60 years of collective experience under their belts. However, the best part is the genuine love for Charleston. It's a passion that seeps through into all they do.
For more information, visit charlestonfinehomes.com or call 843-856-8800.
Read More:
Chari, Franne and Yvette of Charleston Fine Homes
What Makes the Charleston Fine Homes Team Tick
Charleston Fine Homes, Treating Clients the Way They Want to be Treated
Chari, Yvette and Franne: This Team Stands on a Solid Foundation of Trust and Respect
The Wonder Woman of Real Estate Franne Schwarb: 2018 Realtor of the Year
Epitomizing the Integrity, Hard Work and Dedication to Create Relationships
Franne and Chari: Experienced and Knowledgeable Realtors